6. november 2017
Lattice's New Low-Power MachXO3 Control PLD Options Improve Embedded I/O Expansion and Board Management
Lattice's New Low-Power MachXO3 Control PLD Options Improve Embedded I/O Expansion and Board Management
New Devices and Feature-Rich Evaluation Board Expedite Development of Control Applications in Server, Communications, and Industrial Markets
• New MachXO3-9400 devices extend the key benefits of the MachXO3 family including internal configuration memory and flexible programmable I/O to more complex applications needing more logic and embedded memory
• Latest package options offer a 60% reduction in power consumption and expand resources for motor control and board management applications
• New evaluation board offers the most flexibility for designing MachXO3 control PLDs into a variety of system architectures
PORTLAND, OR – Nov. 6, 2017 – Lattice Semiconductor Corporation (NASDAQ: LSCC), the leading provider of customizable smart connectivity solutions, today announced the expansion of its popular MachXO3™ control PLD family to address the evolving design requirements of the communications and industrial sectors. The new MachXO3-9400 package options offer reduced power consumption with a core voltage of 1.2 V for thermally-challenged environments, provide expanded FPGA logic resources for motor control and board management functions, and offer a higher I/O count optimized for server and storage applications. To support customers who are designing with MachXO3, Lattice is releasing a powerful, flexible evaluation board to support a variety of system architectures, including board management, embedded microcontroller I/O expansion and video protocol bridging functions.
"The release of additional low power options of our MachXO3-9400 devices will enable customers to bring additional intelligence to power-conscious applications at the edge," said Joel Coplen, product marketing manager at Lattice Semiconductor. "Customers can begin developing a variety of solutions using our MachXO3-9400 evaluation board, including hardware management and expanding I/O or adding logic functions to embedded microcontrollers."
Lattice's new device options offer:
• MachXO3-9400E (1.2 V core voltage) options with 60% reduced power consumption over MachXO3-9400C (3.3 V core voltage) variants.
• Pin migration options from MachXO3-6900, expanding FPGA logic resources for factory automation and server board management.
• Up to 384 I/O – the highest I/O count yet in the MachXO3 family.
• Features key benefits of the MachXO3 family, such as internal configuration memory, flexible programmable I/Os and embedded memory.
The MachXO3-9400 evaluation board features the MachXO3-9400 control PLD and the Lattice Hardware Management Expander, the L-ASC10. The board also includes connectors for Raspberry Pi 3, Arduino Zero, and additional expansion boards. The board is ideal for designers who are looking to quickly and efficiently implement I/O expansion, co-processing, motor control and video bridging into their latest computing and industrial applications.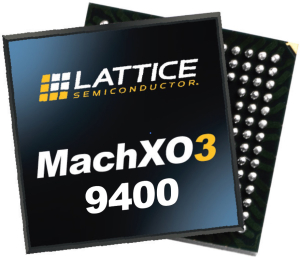 For more information about the extended MachXO3 product family, please visit: http://www.latticesemi.com/en/Products/FPGAandCPLD/MachXO3.aspx.
For additional information on the MachXO3-9400 evaluation board visit: http://www.latticesemi.com/en/Products/DevelopmentBoardsAndKits/MachXO39400DevBoard.aspx.
About Lattice Semiconductor
Lattice Semiconductor (NASDAQ: LSCC) is a leader in smart connectivity solutions at the network edge, where the "things" of IoT live. Our low power FPGA, 60 GHz millimeter wave, video ASSP and IP products deliver edge intelligence, edge connectivity, and control solutions to the consumer, communications, industrial, compute, and automotive markets. Our unwavering commitment to our global customers enables them to accelerate their innovation, creating an ever better and more connected world.
For more information about Lattice please visit http://www.latticesemi.com. You can also follow us via LinkedIn, Twitter, Facebook, YouTube, WeChat, Weibo or Youku.
Lattice Semiconductor Corporation, Lattice Semiconductor (& design), MachXO3, and specific product designations are either registered trademarks or trademarks of Lattice Semiconductor Corporation or its subsidiaries in the United States and/or other countries. The use of the word "partner" does not imply a legal partnership between Lattice and any other entity.
GENERAL NOTICE: Other product names used in this publication are for identification purposes only and may be trademarks of their respective holders.