22. marts 2017
Lattice Semiconductor CrossLink IP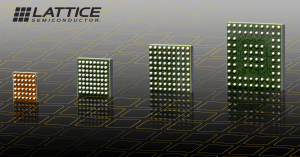 Lattice Semiconductor Expands CrossLink Programmable ASSP (pASSP) IP Solutions
Latest IP, Development Platforms and Resources Enable New Video Bridging Capabilities Supporting a Variety of MIPI Interfaces
Expands use cases to foster development of innovative new video bridging applications using the latest generation processors, displays and sensors
Design flexibility, unique programmability and high performance of CrossLink make it ideal for broad markets including consumer, industrial and automotive
Designs based on CrossLink IP use up to 40% less logic than previous versions with reduced power consumption while enabling more functionalityClick-to-TweetPORTLAND, OR – February 23, 2017 – Lattice Semiconductor Corporation (NASDAQ: LSCC), the leading provider of customizable smart connectivity solutions, today announced the expansion of its Lattice CrossLink™ programmable ASSP (pASSP) solutions to enable new video bridging capabilities with the release of three new CrossLink intellectual property (IP) and two new CrossLink demonstration platforms showcasing MIPI® DSI to LVDS and CMOS to MIPI CSI-2. Reinforcing Lattice's commitment to provide bridging solutions for consumer, industrial, and automotive applications, the company has optimized existing CrossLink IP to save logic resources and lower power consumption.The CrossLink product was designed to address the challenges of today's rapidly changing I/O landscape by offering designers a new way to develop high performance, low power and compact bridging solutions. Since the product introduction less than a year ago, Lattice has seen strong interest from customers to expand beyond typical early applications of the CrossLink product for simple interface conversion, merging and muxing of image sensors, application processors and displays.By optimizing existing IP, leveraging new IP and development platforms, along with additional resources, Lattice can offer more solutions for a greater variety of bridging applications that captures the best of both worlds with the combined the flexibility and fast time to market of an FPGA and the power and functional optimization of an ASSP."The new CrossLink IP and solutions will enable our customers to adopt cameras and displays with the latest mobile interface technology to reduce overall system cost, power and size, while accelerating the design cycle of their next-generation products," said C.H. Chee, senior director of marketing, mobile & consumer division at Lattice Semiconductor. "As inventors of the first programmable bridging device, and the world's fastest MIPI D-PHY bridging device, Lattice is committed to delivering a low cost bridging solution with the highest bandwidth, lowest power and smallest footprint."Key features of the new CrossLink pASSP IP solutions include:New IPs
New Technology Demonstration Platforms
CMOS to MIPI CSI-2 Camera Bridging Demonstration

Connects a popular image sensor with MIPI DPI CMOS-type pixel bus to the CSI-2 input on the application processor
MIPI DSI to LVDS display bridging demonstration
Connects the applications processor to a Dual Link LVDS display
MIPI DSI to LVDS Interface Bridging Demonstration

Connects mobile application processors to large format LVDS displays
Demonstrates the ability for industrial displays to interface to high volume, high performance mobile Application Processors.
Additional Resources
Full suite of CrossLink IP can be accessed here: http://bit.ly/2k84sQb
New CrossLink IPs available in Clarity Designer can be downloaded with Lattice Diamond 3.9 here:
CrossLink evaluation boards with the new IPs are available now from Lattice and its distributors. To learn more, please visit http://www.latticesemi.com/CrossLink.
About Lattice Semiconductor
Lattice Semiconductor (NASDAQ: LSCC) provides smart connectivity solutions powered by our low power FPGA, video ASSP, 60 GHz millimeter wave, and IP products to the consumer, communications, industrial, computing, and automotive markets worldwide. Our unwavering commitment to our customers enables them to accelerate their innovation, creating an ever better and more connected world.
For more information about Lattice please visit http://www.latticesemi.com.  You can also follow us via LinkedIn, Twitter, Facebook, YouTube or RSS.
# # #
Lattice Semiconductor Corporation, Lattice Semiconductor (& design), and CrossLink and specific product designations are either registered trademarks or trademarks of Lattice Semiconductor Corporation or its subsidiaries in the United States and/or other countries.
MIPI is a licensed trademark of MIPI, Inc. in the U.S. and other jurisdictions.
GENERAL NOTICE: Other product names used in this publication are for identification purposes only and may be trademarks of their respective holders.