20. september 2021
Join the FPGA Design Challenge
Digilent and Element14 are pleased to introduce the FPGA Design Challenge. The selected 30 challengers will receive the FREE Digilent Cmod S7 to help power up their FPGA project!
The Cmod, or Carrier Module, a family of products is designed to offer quick, simple, and flexible integration of an FPGA into circuit design, prototyping, and learning/hobby projects. Digilent Cmod S7 is a small, 48-pin DIP form factor board, populated with 36 pins, built around a Xilinx® Spartan®-7 FPGA that brings FPGA power and prototyping to a solderless breadboard.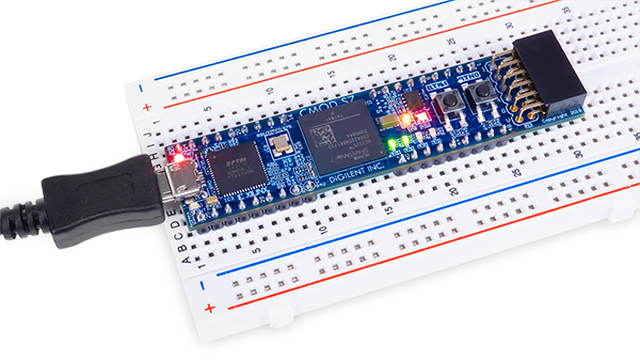 The board includes a Quad-SPI flash for programming, as well as a USB-JTAG programming circuit and USB-UART bridge. The Cmod S7 also features a clock source, Pmod port, and onboard I/O with LEDs and pushbuttons. There are 32 FPGA I/O signals, 2 FPGA analog input signals, an external power input rail, and ground that are routed to 100-mil-spaced through-hole pins, making the Cmod S7 compatible with solderless breadboards.
The possibilities are endless—refer to the examples below to see what you could build.
Image Recognition
Home Scientific Equipment
Signal Processor
Proof of Concept
Processor Off Loading System
Submit your application with a summary describing an FPGA project of your choice, using Cmod S7 for a chance to win a range of amazing prizes.