9. januar 2018
Fujitsu Chooses Lattice's SiBEAM Snap Wireless Connector Technology to Simplify USB Connections in Next-Generation Tablet PC
Fujitsu Chooses Lattice's SiBEAM Snap Wireless Connector Technology to Simplify USB Connections in Next-Generation Tablet PC
Lattice's SB6212 and SB6213 USB3 Devices Improve Ease of Use and Reliability of Connecting the Tablet to the Docking Cradle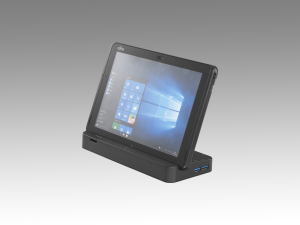 SiBEAM Snap technology provides a short range 60 GHz wireless link that delivers up to 12 Gb/s of data transfer
Proven technology improves system robustness and industrial design by eliminating physical connectorsClick-to-TweetPORTLAND, OR – Jan. 9, 2018 – Lattice Semiconductor Corporation (NASDAQ: LSCC), the leading provider of customizable smart connectivity solutions, today announced that its SiBEAM® Snap™ technology will be integrated in Fujitsu's next-generation Tablet PC, model Q508. The Q508 will be the first tablet supporting USB 3.1 data transfers at 5 Gbps wirelessly and will be displayed during CES 2018. The product will be available in Japan starting in January 2018."SiBEAM Snap technology optimizes performance for battery-powered applications and provides a seamless, ultra-fast wireless data connection that makes it an ideal solution for Fujitsu's Tablet PC," said Susumu Nikawa, CTO at Fujitsu Client Computing Ltd. "By eliminating physical connectors, SiBEAM Snap technology enabled us to produce a much more robust product design." This latest design win further demonstrates that Lattice's SiBEAM Snap wireless connector technology offers a unique advantage in data transfer for a variety of high volume mobile applications, such as smartphones, tablets and notebooks. The production-proven solution also has the ability to extend to broader applications across the consumer and industrial markets – encouraging innovation in Edge connectivity devices for smart homes, smart factories, and more."SiBEAM Snap technology completely replaces common connectors such as USB, while ensuring high-bandwidth wireless data transfer for a truly connector-free device," said C.H. Chee, senior director of marketing at Lattice Semiconductor. "We are excited to see continued adoption of SiBEAM Snap products across more mobile applications, and anticipate broader adoption where a robust low power, fast wireless data transfer is critical." To learn more about SiBEAM Snap technology, please visit http://www.latticesemi.com/en/Products/mmWave/SiBEAMSnap.aspx?pr010918. Lattice will be exhibiting at CES 2018 in Las Vegas from Tuesday, Jan. 9 to Friday, Jan. 12, where members of the Lattice team will showcase some of its latest small form factor, low-power FPGAs, Wireless and HDMI technologies targeting Edge connectivity and Edge computing solutions. To schedule a press meeting, please contact: lattice@racepointglobal.com. To schedule a customer meeting, please visit: http://www.latticesemi.com/en/About/ContactUs.aspx.
Lattice at the CES 2018 – Las Vegas, NV
 
About Lattice Semiconductor
Lattice Semiconductor (NASDAQ: LSCC) is a leader in smart connectivity solutions at the network edge, where the "things" of IoT live. Our low power FPGA, 60 GHz millimeter wave, video ASSP and IP products deliver edge intelligence, edge connectivity, and control solutions to the consumer, communications, industrial, compute, and automotive markets. Our unwavering commitment to our global customers enables them to accelerate their innovation, creating an ever better and more connected world.
For more information about Lattice please visit http://www.latticesemi.com. You can also follow us via LinkedIn, Twitter, Facebook, YouTube, WeChat, Weibo or Youku.
# # #
Lattice Semiconductor Corporation, Lattice Semiconductor (& design), SiBEAM, SiBEAM Snap and specific product designations are either registered trademarks or trademarks of Lattice Semiconductor Corporation or its subsidiaries in the United States and/or other countries. The use of the word "partner" does not imply a legal partnership between Lattice and any other entity.
GENERAL NOTICE: Other product names used in this publication are for identification purposes only and may be trademarks of their respective holders.