18. august 2017
Easily Integrate HSPA/GSM Connectivity with Digi XBee Cellular 3G Global Embedded Modems, Now at Mouser
Easily Integrate HSPA/GSM Connectivity with Digi XBee Cellular 3G Global Embedded Modems, Now at Mouser
August 17, 2017 – Mouser Electronics, Inc., the authorized global distributor with the newest semiconductors and electronic components, is now stocking the Digi® XBee® Cellular 3G global embedded modem. Designed to help original equipment manufacturers (OEMs) avoid time-consuming and expensive FCC and PTCRB end-device certifications, the modem enables engineers to quickly and easily integrate 3G (HSPA/GSM) with 2G fallback connectivity into their machine-to-machine (M2M) and Internet of Things (IoT) designs.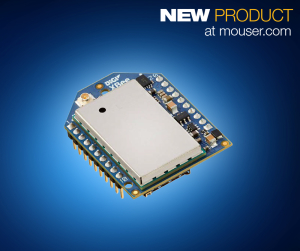 The Digi XBee Cellular 3G global embedded modem, available from Mouser Electronics, operates at 2.7 to 5.5 V supply voltage and offers low-power listening and deep-sleep modes optimized for battery-powered applications. The modem utilizes Digi's TrustFence™ security framework, which includes Secure Boot, encrypted security keys, secure JTAG, and SSL/TLS 1.2 cryptographic protocols. All security and feature updates are performed using over-the-air (OTA) firmware for added manageability and convenience.
The programmable modem supports custom MicroPython applications running directly onboard, which allows users to more efficiently manage their devices and can eliminate the need for an external microcontroller. The device includes the full suite of standard Digi XBee API frames and AT commands, so existing customers can simply drop this modem into their existing designs to instantly achieve 3G cellular integration, without the difficulty of a complete re-design.
All Digi XBee products share the same footprint and software interface, so the Digi XBee Cellular modems offer a cost-effective, longer-range solution with a standardized footprint that allows designers to easily upgrade to new technologies. Customers can seamlessly transition from existing Digi XBee modems to this new modem with only minor software adjustments, configuring and editing data either locally through Digi's XCTU software or remotely using the Digi Remote Manager interface.
Mouser is also offering the Digi XBee Cellular 3G global development kit, which includes the embedded modem, development board, an activated SIM card, and six months of free cellular data service to allow for immediate development. The Digi XBee Cellular embedded modems are ideal for remote equipment control, environmental monitoring, intelligent lighting systems, digital signage, and oil and gas sensors.
To learn more, visit http://www.mouser.com/new/digi-international/digi-xbee-cellular-3g/.
Mouser / Digi XBee Cellular 3G Global Embedded Modem
Page Two
With its broad product line and unsurpassed customer service, Mouser strives to empower innovation among design engineers and buyers by delivering advanced technologies. Mouser stocks the world's widest selection of the latest semiconductors and electronic components for the newest design projects. Mouser Electronics' website is continually updated and offers advanced search methods to help customers quickly locate inventory. Mouser.com also houses data sheets, supplier-specific reference designs, application notes, technical design information, and engineering tools.
About Mouser Electronics
Mouser Electronics, a Berkshire Hathaway company, is an award-winning, authorized semiconductor and electronic component distributor focused on rapid New Product Introductions from its manufacturing partners for electronic design engineers and buyers. The global distributor's website, Mouser.com, is available in multiple languages and currencies and features more than 4 million products from over 600 manufacturers. Mouser offers 22 support locations around the world to provide best-in-class customer service and ships globally to over 550,000 customers in 170 countries from its 750,000 sq. ft. state-of-the-art facility south of Dallas, Texas. For more information, visit http://www.mouser.com.
About Digi International
Digi International is a leading global provider of mission-critical machine-to-machine (M2M) and Internet of Things (IoT) connectivity products and services. Digi helps customers create next-generation connected products and deploy and manage critical communications infrastructures.
Trademarks
Mouser and Mouser Electronics are registered trademarks of Mouser Electronics, Inc. All other products, logos, and company names mentioned herein may be trademarks of their respective owners.
– 30 –
Further information, contact:

Kevin Hess, Mouser Electronics

Senior Vice President of Marketing

(817) 804-3833

For press inquiries, contact:

Nick Foot, BWW Communications

PR Director

+44 (0)1491 636393