12. juli 2017
Dialog's SmartBond DA14586 SoC, Now at Mouser, Enables Low-Power Bluetooth 5 Applications
Dialog's SmartBond DA14586 SoC, Now at Mouser, Enables Low-Power Bluetooth 5 Applications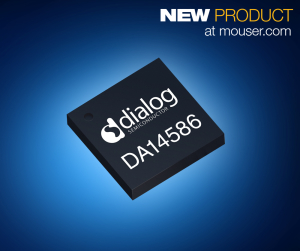 July 12, 2017 – Mouser Electronics, Inc., the authorized global distributor with the newest semiconductors and electronic components, is now stocking the SmartBond™ DA14586 Bluetooth® 5 system-on-chip (SoC) from Dialog Semiconductor. Part of the highly integrated SmartBond family of power-efficient Bluetooth low-energy solutions, the new SoC is Dialog's first standalone device that is qualified to support the latest Bluetooth 5 specification, delivering the lowest power consumption and high functionality for advanced use cases. The versatile device is ideal for adding Bluetooth low energy Mesh to products like remote controls, proximity tags, Internet of Things (IoT) beacons, connected medical devices, and smart home nodes.
The Dialog SmartBond™ DA14586 Bluetooth 5 SoC, available from Mouser Electronics, offers designers all the benefits of the DA14580/DA14581, but with even greater flexibility to create more advanced applications from the smallest footprints and power budgets. Other enhancements include an advanced power management setup with both buck and boost converters, which enable support of most primary cell battery types. In addition to Bluetooth 5 support, DA14586 has 2 MBytes of flash memory and 96 kBytes of RAM for user applications. It also includes an integrated microphone interface, which allows designers to add intuitive intelligent voice control to any cloud-connected product that has a microphone and speaker.
The DA14586 complies with Bluetooth 5.0, ETSI EN 300 328 and EN 300 440 Class 2 (Europe), FCC CFR47 Part 15 (US) and ARIB STD-T66 (Japan). The SoC is supported by the DA14585 Development Kit Pro and Dialog's SmartSnippets™ software to help engineers optimize software for power consumption.
To learn more, visit http://www.mouser.com/new/dialog-semiconductor/dialog-smartbond-da14586-soc/.
Mouser / Dialog SmartBond DA14586 Bluetooth 5 System On Chip
Page Two
With its broad product line and unsurpassed customer service, Mouser strives to empower innovation among design engineers and buyers by delivering advanced technologies. Mouser stocks the world's widest selection of the latest semiconductors and electronic components for the newest design projects. Mouser Electronics' website is continually updated and offers advanced search methods to help customers quickly locate inventory. Mouser.com also houses data sheets, supplier-specific reference designs, application notes, technical design information, and engineering tools.
About Mouser Electronics
Mouser Electronics, a Berkshire Hathaway company, is an award-winning, authorized semiconductor and electronic component distributor focused on rapid New Product Introductions from its manufacturing partners for electronic design engineers and buyers. The global distributor's website, Mouser.com, is available in multiple languages and currencies and features more than 4 million products from over 600 manufacturers. Mouser offers 22 support locations around the world to provide best-in-class customer service and ships globally to over 550,000 customers in 170 countries from its 750,000 sq. ft. state-of-the-art facility south of Dallas, Texas. For more information, visit http://www.mouser.com.
About Dialog Semiconductor
Dialog Semiconductor creates highly integrated, mixed-signal integrated circuits (ICs), optimized for personal portable, low-energy short-range wireless, LED solid-state lighting and automotive applications. The company provides flexible and dynamic support, world-class innovation and the assurance of dealing with an established business partner.
Trademarks
Mouser and Mouser Electronics are registered trademarks of Mouser Electronics, Inc. All other products, logos, and company names mentioned herein may be trademarks of their respective owners.
– 30 –
Further information, contact:

Kevin Hess, Mouser Electronics

Senior Vice President of Marketing

(817) 804-3833

For press inquiries, contact:

Nick Foot, BWW Communications

PR Director

+44 (0)1491 636393