22. juni 2017
Deadline Nearing to Enter Create the Future Design Contest
Deadline Nearing to Enter Create the Future Design Contest
Mouser Joins with Intel®, Analog Devices to Encourage Technological Innovation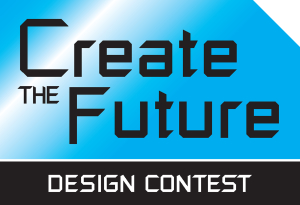 June 22, 2017 – Time is running out to enter the Create the Future Design Contest, an exciting challenge — sponsored by Mouser Electronics — to engineers and students worldwide to create the next great thing. Mouser, the industry's new product introduction leader, is once again partnering with valued suppliers Intel® and Analog Devices in sponsoring the 15th annual contest, produced by Tech Briefs Media Group, an SAE International Company. The deadline to enter is July 1.
The grand prize winner receives worldwide recognition and a cash prize of $20,000 for an innovative product that benefits society and the economy. Previous contests have produced more than 12,000 design ideas from engineers, entrepreneurs, and students in more than 100 countries.
"Fostering technical innovation has always been a major part of our mission at Mouser," said Kevin Hess, Mouser Electronics Senior Vice President of Marketing. "We are very excited to again participate in this important event for engineers and students around the world."
"Mouser is known for supporting innovation among engineers as well as providing unparalleled service to its customers," said Joseph Pramberger, President of Tech Briefs Media Group. "We are very happy to once again partner with Mouser and its suppliers, Intel and Analog Devices."
Last year's grand prize winner was Hyliion, a Pittsburgh-based transportation company that developed a hybrid electric technology for semi-trailers. Hyliion's system adapted the trailer portion of the tractor-trailer combination to use regenerative braking to capture power, saving more than 30 percent on fuel and decreasing emissions by 10 percent.
The Create the Future Design Contest brings attention to product designs that enhance quality of life, improve the efficiency and quality of healthcare, or help to reduce dependence on nonrenewable energy sources. Previous grand prize-winning entries include an economical rapid screening device to prevent food-borne illness and a wheelchair propulsion system designed to increase the user's mobility while decreasing upper body repetitive strain injuries.
The contest was launched in 2002 by the publishers of Tech Briefs magazine to help stimulate and reward engineering innovation. The grand prize winner will be chosen from the winners in seven entry categories: Aerospace and Defense, Automotive/Transportation, Consumer Products, Electronics/Sensors/IoT, Machinery/Automation/Robotics, Medical, and Sustainable Technologies. For more information, go to http://www.mouser.com/createthefuture.
Mouser / Create the Future
Page 2
With its broad product line and unsurpassed customer service, Mouser strives to empower innovation among design engineers and buyers by delivering advanced technologies. Mouser stocks the world's widest selection of the latest semiconductors and electronic components for the newest design projects. Mouser Electronics' website is continually updated and offers advanced search methods to help customers quickly locate inventory. Mouser.com also houses data sheets, supplier-specific reference designs, application notes, technical design information, and engineering tools.
About Mouser Electronics
Mouser Electronics, a Berkshire Hathaway company, is an award-winning, authorized semiconductor and electronic component distributor focused on rapid new product introductions from its manufacturing partners for electronic design engineers and buyers. The global distributor's website, Mouser.com, is available in multiple languages and currencies and features more than 4 million products from over 600 manufacturers. Mouser offers 22 support locations around the world to provide best-in-class customer service and ships globally to over 550,000 customers in 170 countries from its 750,000 sq. ft. state-of-the-art facility south of Dallas, Texas. For more information, visit http://www.mouser.com.
About Tech Briefs Media Group
Tech Briefs Media Group is the publisher of Tech Briefs, the largest-circulation design engineering magazine worldwide, and Medical Design Briefs, the only OEM publication targeted 100% to medical design engineers and managers.
Trademarks
Mouser and Mouser Electronics are registered trademarks of Mouser Electronics, Inc. All other products, logos, and company names mentioned herein may be trademarks of their respective owners.
Intel is a trademark of Intel Corporation in the U.S. and/or other countries.
– 30 –
Further information, contact:

Kevin Hess, Mouser Electronics

Senior Vice President of Marketing

(817) 804-3833

For press inquiries, contact:

Nick Foot, BWW Communications

PR Director

+44 (0)1491 636393