30. april 2019
Bourns GMOV Hybrid Components for Overvoltage Protection Now Available from Mouser Electronics
Bourns GMOV Hybrid Components for Overvoltage Protection Now Available from Mouser Electronics
April 30, 2019 – Mouser Electronics, Inc., the authorized global distributor with the newest semiconductors and electronic components, is now stocking the new GMOV™ hybrid overvoltage surge protection components from Bourns. GMOV components present a long-life, reliable protection solution that provides a higher level of performance and safety compared to standard metal oxide varistors (MOVs). The Bourns GMOV series are ideal in AC applications where conditions are less than predictable or uncontrolled, in markets such as industrial, consumer, non-lifesaving and non-critical medical, and communications.
Bourns GMOV components, available from Mouser Electronics, combine Bourns innovative and space-saving Gas Discharge Tube (GDT) with FLAT® technology with an MOV to create a compact, robust hybrid component. By combining two technologies, the GMOV component effectively eliminates leakage and most damage due to watt loss heating, resulting in a protection solution with zero standby energy consumption and increased mean time between failures.
The Bourns GMOV series offers an easy drop-in replacement for existing MOVs and is available in standard 14 mm and 20 mm MOV packages. The solution has been tested, evaluated and shown to be effective against many of the threats it will experience in the field in applications such as surge protective devices, white goods, chargers, solar power, medical electronics, and power line communications.
To learn more, visit http://www.mouser.com/bourns-gmov.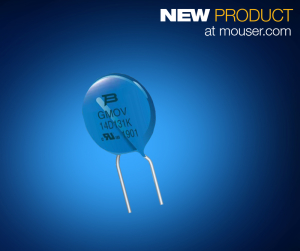 Mouser / Bourns GMOV
Page Two
With its broad product line and unsurpassed customer service, Mouser strives to empower innovation among design engineers and buyers by delivering advanced technologies. Mouser stocks the world's widest selection of the latest semiconductors and electronic components for the newest design projects. Mouser Electronics' website is continually updated and offers advanced search methods to help customers quickly locate inventory. Mouser.com also houses data sheets, supplier-specific reference designs, application notes, technical design information, and engineering tools.
About Mouser Electronics
Mouser Electronics, a Berkshire Hathaway company, is an award-winning, authorized semiconductor and electronic component distributor focused on rapid New Product Introductions from its manufacturing partners for electronic design engineers and buyers. The global distributor's website, Mouser.com, is available in multiple languages and currencies and features more than 5 million products from over 750 manufacturers. Mouser offers 23 support locations around the world to provide best-in-class customer service and ships globally to over 600,000 customers in more than 220 countries/territories from its 750,000 sq. ft. state-of-the-art facility south of Dallas, Texas. For more information, visit http://www.mouser.com.
About Bourns
Bourns is a leading manufacturer and supplier of automotive sensors, circuit protection solutions, magnetic products, microelectronic modules, trimming and precision potentiometers, panel controls, encoders, and resistive products. Headquartered in Riverside, CA, Bourns serves a broad range of markets, including telecommunications, computer, industrial, instrumentation, automotive, consumer, non-critical life support medical, audio, and various other market segments. Bourns products are manufactured according to ISO-9000 standards under Six Sigma quality programs. Bourns automotive products are manufactured in accordance with the TS16949 standard.
Trademarks
Mouser and Mouser Electronics are registered trademarks of Mouser Electronics, Inc. All other products, logos, and company names mentioned herein may be trademarks of their respective owners.
– 30 –
For further information, contact:

Kevin Hess, Mouser Electronics

Senior Vice President of Marketing

(817) 804-3833

For press inquiries, contact:

Nick Foot, BWW Communications

PR Director

+44 (0)1491 636393