1. august 2016
BOM Connector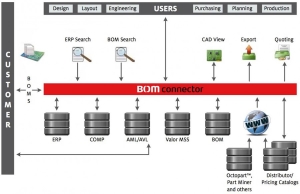 BOM ConnectorTM  – developed by Router Solutions lets PCB manufacturers work more efficiently by improving front-end BOM processing and closely tying their ERP system into the flow. EMS companies in particular can achieve great improvements by using BOM Connector to accelerate the quoting and component sourcing processes and make them more accurate.
BOM Connector quoting features include a graphical "best-price" calculator. When checking prices, either from internal distributor lists or through the online OctopartTM portal, BOM Connector checks the best price for a given component considering production quantity and required turnaround time. Sources with insufficient stock or too-long lead times are displayed in red and eliminated. From the remaining, pricing is displayed in a "green-to-yellow" scale, with the best price clearly marked and displayed in dark green. This allows the user to quickly choose the desired distributor and incorporate the price into the quotation. In case of differing currencies, the daily rate is checked with the European Central Bank and converted automatically.
Both EMS and OEM manufacturers struggle mightily with planning, scrubbing, searching and checking BOMs. EMS firms even more so, since they must start with BOMs in unpredictable formats, containing data far removed from their internal ERP system, which they need to both quote AND manufacture from. In our experience this is the area in the PCB manufacturing flow most open – and conducive – to improvement. The ROI on BOM Connector in such cases is extremely high. The added benefit of catching any mistakes in the BOM early speaks for itself.
Don't hesitate to contact us for more information (45) 898 823 42 / info@innofour.com