20. september 2018
Authorized Distributor Mouser Electronics Stocking Widest Selection of Texas Instruments Products
Authorized Distributor Mouser Electronics Stocking Widest Selection of Texas Instruments Products
September 19, 2018 – Mouser Electronics, Inc., the industry's leading New Product Introduction (NPI) distributor, is an authorized global distributor of Texas Instruments (TI) solutions. With over 44,000 TI products, including over 4,000 development kits, Mouser offers the broadest portfolio of the newest Texas Instruments semiconductor solutions, adding new products every day.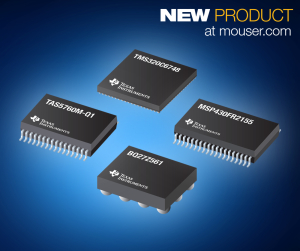 The following are just a few of the latest TI products available from Mouser:
The TI TAS5760M/TAS5760M-Q1 is a stereo I2S input Class-D amplifier that includes hardware- and software-control (I2C) control modes, integrated digital clipper, several gain options, and a wide power supply operating range to enable use in a multitude of audio and video applications. The TAS5760M-Q1 devices are AEC-Q100 qualified for automotive applications.
MSP430FR215x and MSP430FR235x embedded microcontrollers, part of the MSP430 microcontroller portfolio, feature a powerful 16-bit RISC CPU, 16-bit registers, and a constant generator that contribute to maximum code efficiency. The MSP430FR235x microcontrollers integrate four configurable signal-chain modules called smart analog combos, each of which can be used as a 12-bit digital-to-analog converter (DAC) or a configurable programmable-gain operation amplifier.
BQ27Z561 Impedance Track™ gas gauge solution is a highly integrated and accurate 1-series cell gas gauge with a flash-programmable custom RISC and SHA-256 authentication for lithium-ion and lithium-polymer battery packs. The bq27z561 gas gauge communicates via I2C-compatible and HDQ one-wire interfaces and includes several key features that can help facilitate accurate gas gauging applications.
TMS320C6748 fixed- and floating-point DSP is a low-power applications processor based on a TI C674x DSP core with a two-level cache-based architecture. The device enables design engineers to quickly bring to market devices with robust operating systems, rich user interfaces, and high processor performance.
To learn more about the latest TI solutions available from Mouser Electronics, visit http://www.mouser.com/new/Texas-Instruments.
Mouser / Mouser Electronics Stocking Widest Selection of Texas Instruments Products
Page Two
With its broad product line and unsurpassed customer service, Mouser strives to empower innovation among design engineers and buyers by delivering advanced technologies. Mouser stocks the world's widest selection of the latest semiconductors and electronic components for the newest design projects. Mouser Electronics' website is continually updated and offers advanced search methods to help customers quickly locate inventory. Mouser.com also houses data sheets, supplier-specific reference designs, application notes, technical design information, and engineering tools.
About Mouser Electronics
Mouser Electronics, a Berkshire Hathaway company, is an award-winning, authorized semiconductor and electronic component distributor focused on rapid New Product Introductions from its manufacturing partners for electronic design engineers and buyers. The global distributor's website, Mouser.com, is available in multiple languages and currencies and features more than 5 million products from over 700 manufacturers. Mouser offers 23 support locations around the world to provide best-in-class customer service and ships globally to over 600,000 customers in more than 220 countries/territories from its 750,000 sq. ft. state-of-the-art facility south of Dallas, Texas. For more information, visit http://www.mouser.com.
Trademarks
Mouser and Mouser Electronics are registered trademarks of Mouser Electronics, Inc. All other products, logos, and company names mentioned herein may be trademarks of their respective owners.
– 30 –
Further information, contact:

Kevin Hess, Mouser Electronics

Senior Vice President of Marketing

(817) 804-3833

For press inquiries, contact:

Nick Foot, BWW Communications

PR Director

+44 (0)1491 636393