26. maj 2023
Arduino's Opta Micro Programmable Logic Controllers, Now Available at Mouser, Enable Industrial IoT Applications
Mouser Electronics, Inc., the industry's leading New Product Introduction (NPI) distributor with the widest selection of semiconductors and electronic components™, is now stocking the Opta® micro programmable logic controller (PLC) from Arduino. The easy-to-use controller allows designers to scale industrial automation projects using the open Arduino ecosystem. The Opta PLC supports real-time control, monitoring, and predictive maintenance, making it an ideal choice for industrial Internet of Things (IoT) and building automation applications.
The Arduino Opta micro PLC, now available at Mouser, is based on the STM32H747XI dual-core microcontroller from STMicroelectronics, which includes a single high-performance Arm® Cortex®-M7 core running at up to 480 MHz and a lower-power Cortex-M4 core running at up to 240 MHz alongside a shared floating-point unit (FPU).
The Opta is offered in three variants:
Opta Lite, which includes Ethernet connectivity and USB Type-C™ for programming
Opta RS485, which adds RS485 half-duplex support
Opta WiFi, which includes radios for Wi-Fi® and Bluetooth® Low Energy (BLE) connectivity
All models support over-the-air updates and feature a dedicated secure element for cryptographic assurances, plus relays for switching four loads of up to 2.3 kW each. The highly versatile controllers also include optional support for standard IEC 61131-3 PLC languages and fieldbus integration via Modbus TCP and Modbus RTU.
The Opta PLCs were recently featured in a Mouser Webinar. Featuring two expert panellists from Arduino, the video webinar provides device designers with everything they need to know to develop and scale their industrial automation projects.
To learn more about the Opta micro programmable logic controllers, visit https://eu.mouser.com/new/arduino/arduino-opta-micro-plcs/.
To view the Mouser Webinar Scale Up Automation with the new Arduino Opta microPLC, visit https://resources.mouser.com/mouser-webinars/scale-up-automation-with-the-new-arduino-opta-microplc/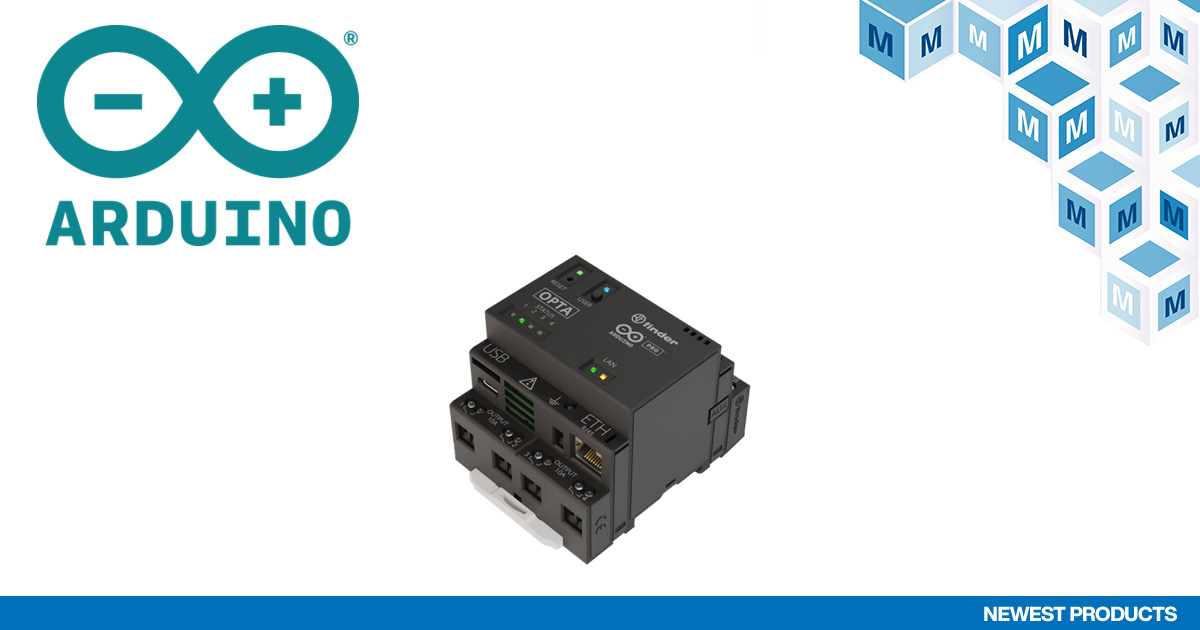 About Mouser Electronics
Mouser Electronics, a Berkshire Hathaway company, is an authorised semiconductor and electronic component distributor focused on New Product Introductions from its leading manufacturer partners. Serving the global electronic design engineer and buyer community, the global distributor's website, mouser.com, is available in multiple languages and currencies and features more than 6.8 million products from over 1,200 manufacturer brands. Mouser offers 27 support locations worldwide to provide best-in-class customer service in local language, currency and time zone. The distributor ships to over 650,000 customers in 223 countries/territories from its 1 million-square-foot, state-of-the-art distribution facilities in the Dallas, Texas, metro area. For more information, visit https://www.mouser.com/.
About Arduino
Arduino is an open-source electronics prototyping platforms based on flexible, easy-to-use hardware and software. Arduino prototyping platforms are intended for artists, designers, beginners, hobbyists, and anyone interested in creating interactive objects or environments. Arduino projects can sense the environment by receiving input from a variety of sensors and can affect their surroundings by controlling lights, motors, and other actuators. Arduino projects can be stand-alone or they can communicate with software running on a computer.