11. juli 2019
Analog Devices Power by Linear LTM7400 µModule Regulator Now at Mouser
Analog Devices Power by Linear LTM7400 µModule Regulator Now at Mouser
July 11, 2019 – Mouser Electronics, Inc., the industry's leading New Product Introduction (NPI) distributor with the widest selection of semiconductors and electronic components, is now offering the Power by Linear™ LTM4700 µModule® regulator from Analog Devices. The step-down switching mode regulator combines very high power with energy-efficient performance to help reduce data center infrastructure cooling requirements.
Analog Devices LTM4700 µModule regulator, available from Mouser Electronics, is a dual 50 A or single 100A step-down DC/DC regulator solution that incorporates fast analog control loops, precision mixed-signal circuitry, power MOSFETs, inductors and supporting components. The module's innovative heatsink packaging technology enables increased server density and boosts data center throughout and computational power with minimal impact on system size and cooling costs.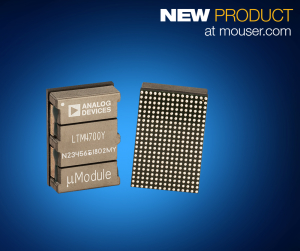 The 15 × 22 mm device integrates analog-to-digital converters (ADCs), digital-to-analog converters (DACs), and EEPROM and features remote configurability and telemetry-monitoring of power management parameters over a PMBus protocol. The device operates over an input voltage range of 4.5 V to 16 V, with a digitally supported output voltage range of 0.5 V to 1.8 V.
The µModule's architecture enables system designers to combine up to eight devices, delivering up to 800 A of load current to meet the higher power needs of data center processors, including FPGAs, ASICs, GPUs and microcontrollers. Applications include cloud computing, high-speed computing and optical networking systems, communication infrastructure, and PCIe boards, as well as medical, industrial, and test and measurement equipment.
Mouser also stocks LTM4700 demonstration boards, which include up to four LTM4700 regulators on a board for up to 400 A output current. The boards power up to default settings and produce power based on configuration resistors without the need for any serial bus communication, enabling easy evaluation of the LTM4700 µModule device.
To learn more, visit http://www.mouser.com/adi-ltm4700-regulators.
Mouser / Analog Devices LTM4700 µModule Regulator
Page Two
With its broad product line and unsurpassed customer service, Mouser strives to empower innovation among design engineers and buyers by delivering advanced technologies. Mouser stocks the world's widest selection of the latest semiconductors and electronic components for the newest design projects. Mouser Electronics' website is continually updated and offers advanced search methods to help customers quickly locate inventory. Mouser.com also houses data sheets, supplier-specific reference designs, application notes, technical design information, and engineering tools.
About Mouser Electronics
Mouser Electronics, a Berkshire Hathaway company, is an award-winning, authorized semiconductor and electronic component distributor focused on rapid New Product Introductions from its manufacturing partners for electronic design engineers and buyers. The global distributor's website, Mouser.com, is available in multiple languages and currencies and features more than 5 million products from over 750 manufacturers. Mouser offers 25 support locations around the world to provide best-in-class customer service and ships globally to over 600,000 customers in more than 220 countries/territories from its 750,000 sq. ft. state-of-the-art facility south of Dallas, Texas. For more information, visit http://www.mouser.com.
About Analog Devices Inc.
Analog Devices is a leading global high-performance analog technology company dedicated to solving the toughest engineering challenges. We enable our customers to interpret the world around us by intelligently bridging the physical and digital with unmatched technologies that sense, measure, power, connect and interpret. Visit http://www.analog.com.
Trademarks
Mouser and Mouser Electronics are registered trademarks of Mouser Electronics, Inc. All other products, logos, and company names mentioned herein may be trademarks of their respective owners.
– 30 –
For further information, contact:

Kevin Hess, Mouser Electronics

Senior Vice President of Marketing

(817) 804-3833

For press inquiries, contact:

Nick Foot, BWW Communications

PR Director

+44 (0)1491 636393