9. maj 2018
Analog Devices GaAs ADMV10x Converters, Now at Mouser, Provide High-Quality Up/Down Conversion for Data Transmission
Analog Devices GaAs ADMV10x Converters, Now at Mouser, Provide High-Quality Up/Down Conversion for Data Transmission
May 9, 2018 – Mouser Electronics, Inc., the industry's leading New Product Introduction (NPI) distributor with the widest selection of semiconductors and electronic components, is now stocking the ADMV10x Converters from Analog Devices. Part of ADI's latest series of RF up/down converters, these monolithic microwave integrated circuits (MMIC) are manufactured using gallium arsenide (GaAs), and offer designers a high performance and high-quality product in a small, convenient package for a variety of audio and video data transmission applications.
The Analog Devices ADMV10x Converters, now available from Mouser Electronics, use an I/Q mixer topology to reduce the need for unwanted sideband filtering. The series consists of the ADMV1009, the ADMV1010, the ADMV1011 and the ADMV1012. The ADMV1009 is a single sideband (SSB) I/Q upconverter optimized for point-to-point microwave radio designs that operate in the 12.7 GHz to 15.4 GHz frequency range. The device provides 21 dB of conversion gain with 20 dB of image rejection, and its upconversion requires only a 180-degree balun to select the required sideband.
The comparable SSB I/Q downconverter for the ADMV1009 is the ADMV1010, which is optimized for the 12.6 GHz to 15.4 GHz frequency range. In contrast to the ADMV1009, this device provides 15 dB of conversion gain with 25 dB of image rejection, and its downconversion requires a 90-degree hybrid to select the required sideband. Both the ADMV1009 and ADMV1010 serve as a much smaller alternative to hybrid-style SSB upconverter and downconverter assemblies, respectively.
The ADMV1011 upconverter features the same conversion gain and image rejection as the ADMV1009 but outputs across a higher frequency range of 17 to 24 GHz. The ADMV1011 is also fully integrated, needing a only 90-degree hybrid to select the required sideband. The downconverter counterpart to the ADMV1011 is the ADMV1012, which operates in the 17.5 GHz to 24 GHz input frequency range and provides 15 dB of conversion gain, 25 dB of image rejection, and a 2.5 dB noise figure. Both the ADMV1011 and ADMV1012 function as a much smaller alternative to hybrid style DSB assemblies, each eliminating the need for wire bonding by allowing the use of surface-mount manufacturing assemblies.
Analog Devices' series of ADMV10x converters are now at Mouser Electronics in a compact, thermally enhanced 4.9 mm × 4.9 mm LCC package. The devices are ideally suited for RF applications such as satellite communications, radar, electronic warfare systems, and point-to-point radios.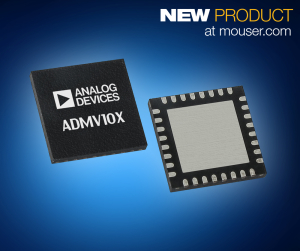 To learn more, visit http://www.mouser.com/adi-admv10-converters.
Mouser / Analog Devices ADMV10x Converters
With its broad product line and unsurpassed customer service, Mouser strives to empower innovation among design engineers and buyers by delivering advanced technologies. Mouser stocks the world's widest selection of the latest semiconductors and electronic components for the newest design projects. Mouser Electronics' website is continually updated and offers advanced search methods to help customers quickly locate inventory. Mouser.com also houses data sheets, supplier-specific reference designs, application notes, technical design information, and engineering tools.
About Mouser Electronics
Mouser Electronics, a Berkshire Hathaway company, is an award-winning, authorized semiconductor and electronic component distributor focused on rapid New Product Introductions from its manufacturing partners for electronic design engineers and buyers. The global distributor's website, Mouser.com, is available in multiple languages and currencies and features more than 5 million products from over 700 manufacturers. Mouser offers 22 support locations around the world to provide best-in-class customer service and ships globally to over 600,000 customers in 170 countries from its 750,000 sq. ft. state-of-the-art facility south of Dallas, Texas. For more information, visit http://www.mouser.com.
About Analog Devices
Analog Devices is the leading global high-performance analog technology company dedicated to solving the toughest engineering challenges. We enable our customers to interpret the world around us by intelligently bridging the physical and digital with unmatched technologies that sense, measure, power, connect and interpret. Visit http://www.analog.com.
Trademarks
Mouser and Mouser Electronics are registered trademarks of Mouser Electronics, Inc. All other products, logos, and company names mentioned herein may be trademarks of their respective owners.
Further information, contact:

Kevin Hess, Mouser Electronics

Senior Vice President of Marketing

(817) 804-3833

For press inquiries, contact:

Nick Foot, BWW Communications

PR Director

+44 (0) 1491 636393