14. marts 2018
AAEON UP Squared Grove IoT Dev Kit, Now at Mouser,
AAEON UP Squared Grove IoT Dev Kit, Now at Mouser,
Brings Together Intel Processing and Arduino Simplicity
March 14, 2018 – Mouser Electronics, Inc., the New Product Introduction (NPI) leader that empowers innovation, is now stocking the UP Squared Grove IoT Development Kit from AAEON. Designed as a modular and ready‐to‐use toolset optimized for simplicity, the kit combines a custom Ubuntu 16.04 LTS operating system and end-to-end tools to reduce development time and offer a high-performance development platform for computer vision, machine learning, and data aggregation applications.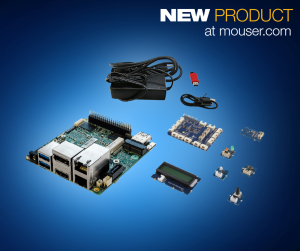 The AAEON UP Squared Grove IoT Development Kit, available from Mouser Electronics, combines an AAEON UP Squared board and the Seeed Studio Grove prototyping system with the Arduino Create integrated online platform. The AAEON UP Squared is a high-performance x86 board based on a 2.4 GHz Intel® Celeron® N3350 system-on-chip (SoC) for fast CPU and graphics capabilities. The board features an Intel MAX® 10 FPGA with 2,000 logic elements (LE), 8 Gbytes of LPDDR4 RAM, and 32 Gbytes of eMMC storage, plus a robust offering of input/output (IO) expansion options.
The Seeed Grove prototyping system is a collection of single-function modules with standardized connectors to simplify building electronic circuits without solder or breadboards. The included Grove sensors kit contains a shield to connect to the UP Squared board, an LCD display, rotary angle sensor, light sensor, button, LED, temperature sensor, and humidity sensor. With a clear upgrade path to other Grove sensors, the kit can be deployed to production with additional connectivity components and an industrial grade chassis.
AAEON UP Squared Grove IoT Development Kit includes support from Arduino Create, a web-based platform that includes an up-to-date online Arduino integrated development environment (IDE) with a web editor and collaboration tools. Arduino Create includes examples specifically built for the UP Squared Grove IoT Dev Kit, as well as libraries such as OpenCV and the Intel Math Kernel Library (MKL).
The AAEON UP Squared Grove IoT Development Kit is ideal for prototyping a variety of Internet of Things (IoT) applications, including robotics, drones, home and industrial automation, media and entertainment, and intelligent automobiles.
To learn more, visit http://www.mouser.com/aaeon-up-squared-grove-iot-kit.
Mouser/AAEON UP Squared Grove IoT Development Kit
Page Two
With its broad product line and unsurpassed customer service, Mouser strives to empower innovation among design engineers and buyers by delivering advanced technologies. Mouser stocks the world's widest selection of the latest semiconductors and electronic components for the newest design projects. Mouser Electronics' website is continually updated and offers advanced search methods to help customers quickly locate inventory. Mouser.com also houses data sheets, supplier-specific reference designs, application notes, technical design information, and engineering tools.
About Mouser Electronics
Mouser Electronics, a Berkshire Hathaway company, is an award-winning, authorized semiconductor and electronic component distributor focused on rapid New Product Introductions from its manufacturing partners for electronic design engineers and buyers. The global distributor's website, Mouser.com, is available in multiple languages and currencies and features more than 5 million products from over 700 manufacturers. Mouser offers 22 support locations around the world to provide best-in-class customer service and ships globally to over 600,000 customers in 170 countries from its 750,000 sq. ft. state-of-the-art facility south of Dallas, Texas. For more information, visit http://www.mouser.com.
About AAEON
AAEON is a leading designer and manufacturer of professional, intelligent IoT solutions, including the UP Board. The UP Board offers extensive features that make it ideal for applications such as robotics, drones, machine vision, smart home, education, digital signage, intelligent cars, and IoT solutions. AAEON is an Associate Member of the Intel® Internet of Things Solutions Alliance.
Trademarks
Mouser and Mouser Electronics are registered trademarks of Mouser Electronics, Inc. All other products, logos, and company names mentioned herein may be trademarks of their respective owners. Intel is a trademark of Intel Corporation in the U.S. and/or other countries.
– 30 –
Further information, contact:

Kevin Hess, Mouser Electronics

Senior Vice President of Marketing

(817) 804-3833

For press inquiries, contact:

Nick Foot, BWW Communications

PR Director

+44 (0)1491 636393