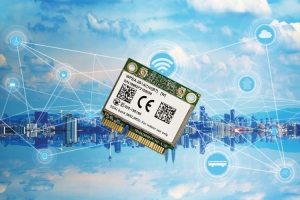 Atlantik Elektronik presents the new Wi-Fi/Bluetooth combo mini PCIe module WPEA-251ACNI (BT) from SparkLAN. It is suitable for medical devices, security systems, industrial PCs, Point of Sales, digital signs, set-top/net-top boxes, embedded / tablet PC's, Vehicle mounted front, Robot/ Intelligent gateways, gaming machines, etc.
The WPEA-251ACNI (BT) is a high performance WiFi 5 dual band 2T2R Industrial-Grade (-40°C to +85°C) Wi-Fi / Bluetooth 5.0 combo mini PCIe module (Wi-Fi 5), multiple output (MU-MIMO) with two spatial streams IEEE802.11 ac/a/b/g/n WLAN standards and Bluetooth 5.0, designed to deliver superior integration of WLAN / Bluetooth and low energy technology.
The WPEA-251ACNI (BT) is using a QCA6174A-5 along with Windows and Linux driver which provide excellent solution for Automation / Robotic various applications. Adopting the latest 802.11ac solution, the WPEA-251ACNI(BT) is a dual band AC on 2.4GHz+5GHz and incorporates the latest Bluetooth 5.0.
The download speed is 300Mbps on N networks and 867Mbps on AC network. WPEQ-251ACNI (BT) is integrates the Bluetooth transmission technology for voice and data transfers between devices in a short distance.
The Wi-Fi / Bluetooth 5.0 combo mini PCIe module (Wi-Fi 5) module based on Qualcomm Atheros QCA6174A-5 chipset.
Based on the experience in wireless technologies Atlantik Elektronik is the ideal partner for 2T2R 802.11ac/a/b/g/n Dual-Band industrial grade modules. Detailed information about hardware and software, application notes as well as support can be obtained from Atlantik Elektronik.
Atlantik Elektronik GmbH
http://www.atlantikelektronik.de