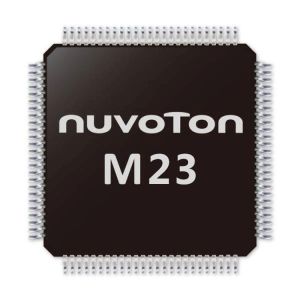 Atlantik Elektronik presents the newest ARM Cortex-M23 MCU platform from Nuvoton. The M2351 series is a secure microcontroller platform powered by ARM Cortex-M23 core with ARMv8-M architecture as well as TrustZone Technology. The ultra-low-power 32-bit microcontroller works in low voltage range from 1.62V to 3.6V and runs at up to 60 MHz, with up to 512 kb flash memory in dual bank mode supporting OTA firmware update and up to 96 kb embedded SRAM. The controller operates in a wide temperature range of -40°C to +105°C and is suitable for applications such as IoT secure connections, fingerprint cards, smart home appliances, wireless sensor node devices (WSND), auto meter reading (AMR) and portable wireless data collectors.
The M2351 series also integrates 8 memory protection units (MPU) which protect precisely specified regions of the memory by the execution of defined privileges and access rules. Similarly, 8 security attribution units (SAU) are also available which form a programmable unit for establishing address security. Furthermore the M2351 is equipped with 32 kb Secure Boot ROM as root of trust, multiple firmware programming tools by In-System Programming (ISP) for the microcontroller programming or rather a firmware update directly on the target hardware.
The M2351 series from Nuvoton obtained in power down mode with switched real time clock RAM retention less than 2.0μA, in standby power down mode less than 1μA. Fast controller wake-up via multiple peripheral interfaces can be realized.
In addition to the TrustZone software protection it also supports eXecute-only memory, LDROM and multiple cryptographic hardware accelerators which are used to protect the core software and data assets on a microcontroller system. The M2351 series also provide high performance connectivity peripheral interfaces such as UART, SPI, I2C, GPIOs, USB and smart card interfaces.
Atlantik Elektronik GmbH
Web: www.atlantikelektronik.de