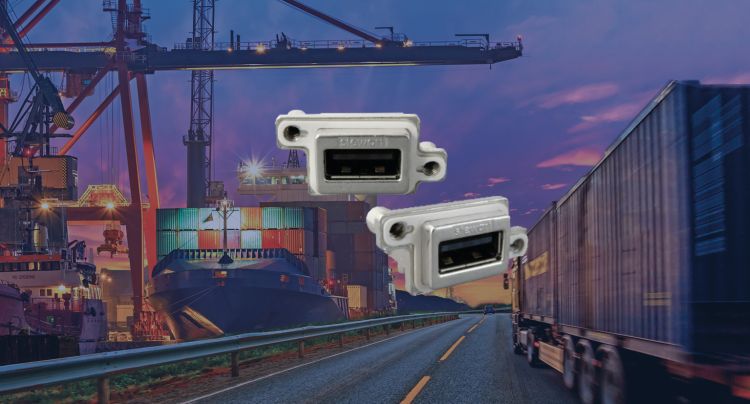 Atlantik Elektronik, provider of innovative embedded solutions, presents the new product line extension to the SealJack PCB Mount Series from Bel. The SealJack provides a USB 2.0 connection for products that need to be outside a typical office environment, for example in industrial environments, marine equipment, medical devices and renewable energy industry. They can be used wherever reliability and functionality are required when Ethernet is used outside typical applications.
The USB 2.0 SealJack is coupled with a sealed housing design for IP67 applications. It is the lightest and most compact products on the market to support USB 2.0 speeds up to 480 Mbit/s. SealJack connectors provide a reliable connection where moisture and other environmental factors limit the capability of standard connector products.
The USB 2.0 SealJack allows front panel mounting with blind mating screw pockets and also has 30u" of gold on the contacts These sealed connectors excel when electronics need to be protected from environmental conditions beyond what is capable using traditional USB connectivity.
Main characteristics:
Available in single port right angle configurations
Allows for sealed protection from outside elements for IP67 applications
The connector housing is comprised of a Zinc diecast alloy with tin plating
A compact design that minimizes weight, volume and area over competitive products
Minimum of 750 mating cycles
Includes a gasket that allows for a front panel mounting
POE compatible and RoHS Compliant
Supports speeds up to 480 Mbit/s
Atlantik Elektronik GmbH
http://www.atlantikelektronik.de