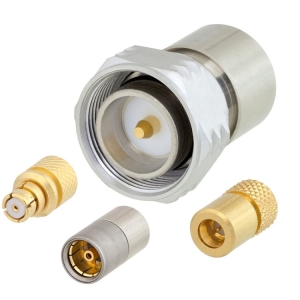 Pasternack has launched a new line of RF loads with ten different types of connectors for quick mating. Typical applications include DAS systems, base stations, antennas and test instrumentation.
Pasternack's 24 new easy connect terminations are available with QMA, QN, 4.3-10, SMP, SMP-M and BMA connectors for quick, snap-on or push-on mating. These RF loads support operating frequency ranges from DC to 40 GHz. They deliver VSWR as low as 1.1:1 and input power up to 2W maximum. Some models are available with chains.
These quick connect RF loads improve flexibility of installation and eliminate the need for wrench or torque for thread coupling. The QMA model is made of tri-metal-plated brass, the SMP model is gold-plated brass, the SMP-M is made with gold-plated beryllium copper and the 4.3-10 model is nickel-plated brass. These terminations are ideal for industrial, telecommunication, defense and aerospace industries.
For detailed information on these products, please visit https://www.pasternack.com/pages/rf-microwave-and-millimeter-wave-products/quick-connect-rf-loads.html.