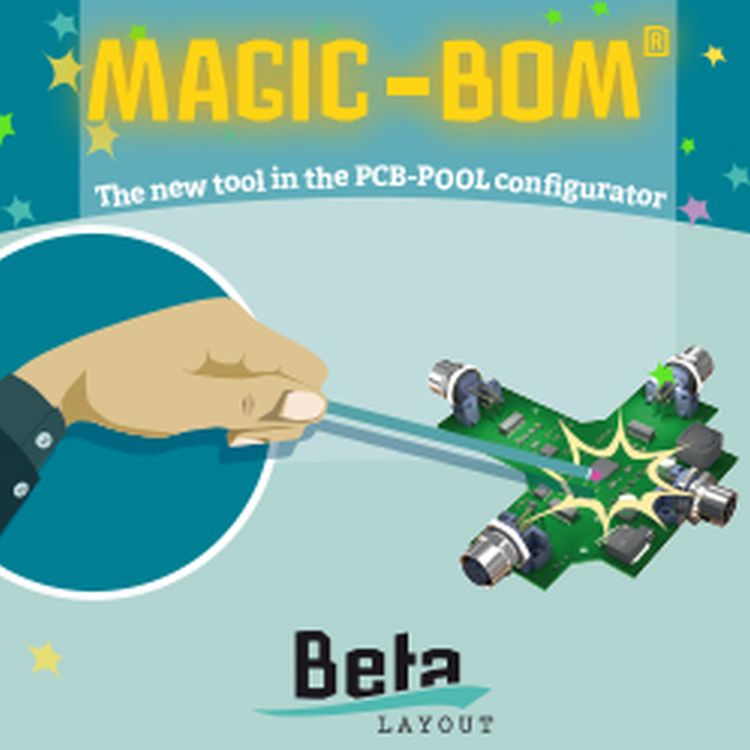 Magic-BOM is the latest feature in the PCB-POOL® configurator from the prototype specialist and PCB manufacturer Beta LAYOUT.
Magic-BOM® creates your Bill of Material (BOM) for PCB assembly as if by Magic;
How does it work ?
You simply drag your PCB layout file into the 'drag & drop' field.
The MAGIC-BOM Tool first checks whether the components are available in Beta LAYOUT's component stock inventory, which automatically saves you time as well as reducing component and shipping costs.
If your component is not available, Magic BOM will suggest suitable components from various distributors, which you then only have to select.
As soon as all components have been selected and the parts list has been completely filled out, the price for components, assembly service and PCB manufacture is displayed instantly.
After ordering, you will receive the parts list (BOM) in excel format for documentation purposes.
The benefits for you:
Cheaper and faster assembly through our own stocked components.
Faster creation of your parts list – you only confirm the correct components.
Instant pricing for PCB, components and assembly.
Magic BOM supports Autodesk Eagle, Target 3001! & Altium designer files.
Our powerful search function compares the offers FROM several distributions and
gives you the optimal results to choose from.
https://eu.beta-layout.com/pcb/assembly/magic-bom/
email: sales@beta-layout.com