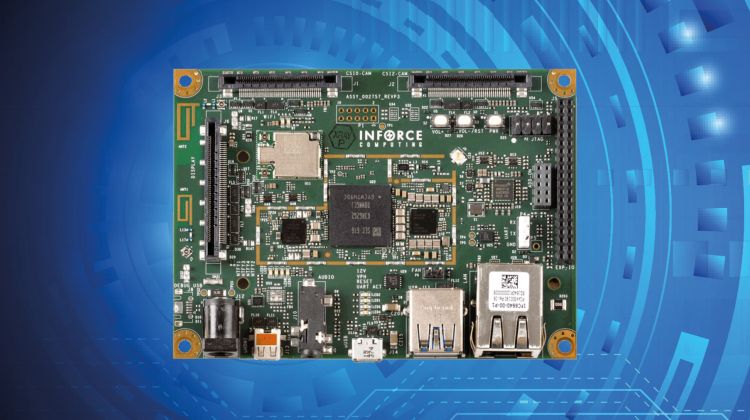 Atlantik Elektronik presents the Inforce Computing IFC- 6640, next generation Pico ITX single board computer (SBC), featuring the Qualcomm® 64-bit quad-core processor Snapdragon™ 820 for cutting-edge embedded applications. It is the industry´s first commercial single board computer for advanced high-end embedded devices. Inforce 6640 provides an optimal experience in connectivity, performance, power, and graphic capabilities required for virtual/augmented reality, healthcare, gaming, 4K video collaboration, cameras, and the Internet of Things.
The Snapdragon 820 processor, a product of Qualcomm Technologies, Inc., features the Qualcomm® Adreno™ 530 GPU, Qualcomm® Hexagon™ 680 DSP, and Qualcomm Spectra™14-bit dual-ISP with 25MP@30fps. The Qualcomm® Kryo™ CPU clocked at up to 2.2GHz and is designed to feature 2x the performance and efficiency compared to previous generations.
The Inforce Computing 6640 manufactured in an advanced 14nm FinFET Low Power Plus (LLP) fabrication process that allows faster switching speeds and lower voltage operation in a smaller footprint. With better imaging capabilities due to the Spectra™ camera ISP, an improved GPU architecture and excellent video and connectivity options, it is targeted at embedded system applications that require hi-tech smart visual technologies and intense video analytics. It supports H.265 (HEVC) playback @4K60 and capture @4K30.
Also the Inforce IFC-6640 brings out crucial features, I/O interfaces, and software to enable a diverse set of superior embedded devices including,
Memory options: 4GB LPDDR4, 64GB UFS 2.0, and 1 µSD card interface (other memory configurations available)
Multimedia features: Dual MIPI-DSI, HDMI 4K Ultra HD HEVC video capture and playback
Camera capabilities: MIPI-CSI up to 25MP camera
Improved Connectivity: Bluetooth 4.2 LE, Wi-Fi 802.11ac, GbE, and on-board GPS
Pre-loaded operating system: Android Marshmallow (Android 7 available)
Inforce already has a variety of accessories to complement the 6640 platform including ACC-1H70, a 21MP camera card, and ACC-1S70, a Power over Ethernet accessory card. ACC-1H70 is a complete camera solution using Sony's IMX230 sensor and is capable of capturing 4K video and 21MP photographs. For noisy environments, developers can use ACC-1S70 PoE add-on card which allows both power and Ethernet connection through one single cable.
Atlantik Elektronik GmbH
Web: www.atlantikelektronik.de