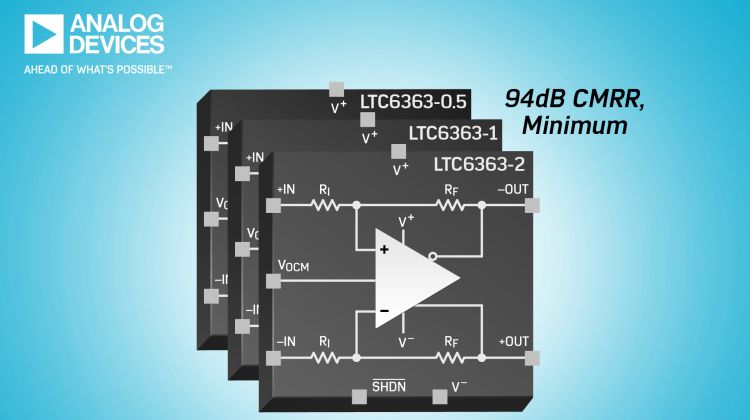 Analog Devices announces LTC6363-0.5, LTC6363-1 and LTC6363-2 Precision, Fixed-Gain, Fully Differential Amplifiers, creating a family of ultra-precision fixed-gain variants of the successful LTC6363 amplifier. The new offerings are available in fixed gains of 0.5, 1 and 2V/V which provide flexibility when scaling inputs to the full range of ADCs.
The precision resistors, which are integrated in LTC6363-0.5, LTC6363-1 and LTC6363-2, have been designed with overall system performance in mind, striking a balance between noise and linearity, and utilizing laser trimmed factory calibration to achieve a level of precision which is difficult and costly to achieve discretely. Initial gain accuracy is 45ppm maximum and varies by only 0.5ppm/oC maximum over temperature. Common mode rejection ratio, which is typically limited by discrete resistor matching, is an outstanding 94dB minimum, equivalent to a 0.002% resistor matching.
The entire LTC6363 family operates with supply voltages from 2.8V (±1.4V) to 11V (±5.5V) while drawing 1.75mA typical supply current. The devices are specified for operation over a temperature range from –40°C to 125°C. The LTC6363 fixed-gain series are available in a 3mm x 5mm plastic MSOP8 package, and the LTC6363 (without resistors) is also offered in the tiny 2mm x 3mm DFN package.
For more information, visit http://www.analog.com/LTC6363.