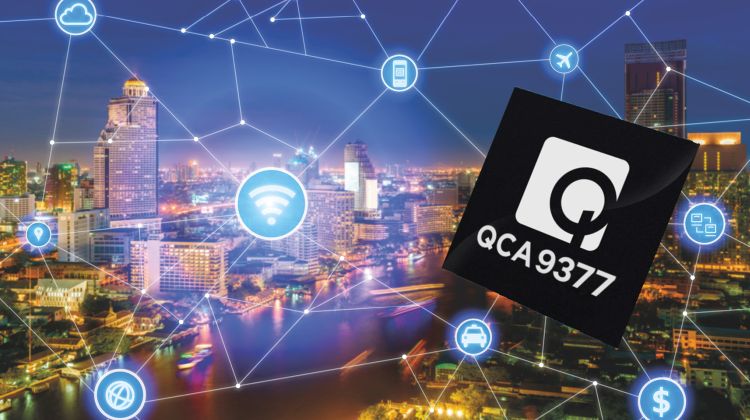 Atlantik Elektronik, provider of innovative wireless solutions, will present with the dual band 802.11ac and Bluetooth SoC from Qualcomm Technologies Inc. a new chipset specifically designed to help engineers meet the needs of today's "always-on" world and to deliver superior integration of WLAN/Bluetooth and low-energy technology.
The QCA9377 combines advanced 1×1 dual-band 802.11ac MU-MIMO Wi-Fi + Bluetooth 4.2 in a high performance, ultra low power, small form factor System-on-Chip (SoC) and is very attractive for for specific IoT solutions such as home automation, industrial automation, infotainment, wireless gaming and smart home appliances, so everywhere performance, battery life and costs are critical.
The QCA9377 SoC offers both low power dual-band (2.4 & 5GHz), 1-stream (1×1), 802.11ac MU-MIMO and Bluetooth 4.2 technologies.
QCA9377 supports high-speed Wi-Fi connectivity and enriched media experiences for virtually all connected devices. It is optimized for energy efficiency, which is critical to extending the battery life of portable devices. The software stack offers quality, stability and performance with an open source option and the architecture allows for virtually seamless evolution.
QCA9377 allows for superior rate-over-range throughput and low-latency performance in real-world operating conditions by incorporating Bluetooth coexistence, a special periodic switching of the antenna designed to enable both Wi-Fi and Bluetooth to operate in the same module effectively at the same time.
The two variants available for QCA9377 are QCA9377-3, which supports a low-power SDIO 3.0 interface for WLAN and a UART/PCM interface for Bluetooth and QCA9377-7, which supports a low-power USB 2.0 interface for WLAN and a USB 1.1 interface for Bluetooth.
The QCA9377, and his variants as well as a comprehensive development kit is available now at Atlantik Elektronik.
Web: www.atlantikelektronik.de