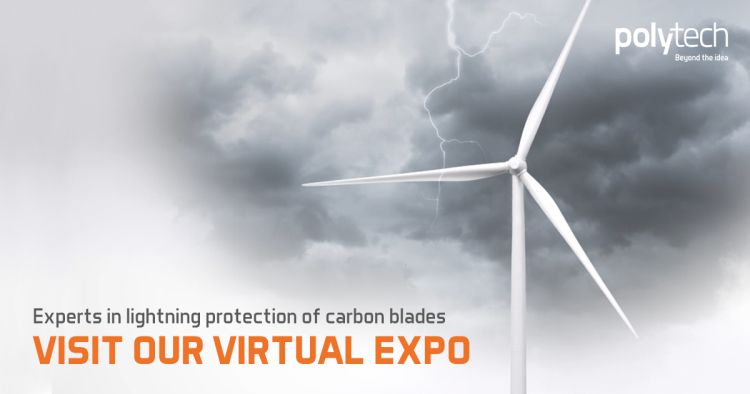 Meet PolyTech's wind energy technology experts and gain insight into wind industry solutions and products at the digital event Wind Energy Hamburg. PolyTech participates with four specialists on three main stages focusing on blade manufacturing, transportation and aftermarket.
For the first time, the world's biggest wind industry trade fair is held as a digital instead of a physical, on-site event. When Wind Energy Hamburg goes live from 1 to 4 December 2020, specialists of the wind industry from all over the world become interconnected and share the newest knowledge concerning wind energy technology.
PolyTech takes part in the digital event with a customized virtual exhibition where you are to explore three main stages run by four wind energy technology experts. Before meeting the specialists, you will be given a welcoming speech by CEO Mads Kirkegaard.
As a visitor, you will experience lifelike 3D presentations and be informed about the product portfolio from Polytech entailing Lightning Protection Systems, ELLE™ Leading Edge Protection, Blade Monitoring and Optimization, Transport Equipment and Solutions and Add-ons.
Meet our experts
Our virtual exhibition platform will emulate the physical event experience. As you enter, you will be met by four technology experts specialized in different areas of wind energy technology, who are ready to engage in dialogue and give you concrete guidance on your wind turbines and blades.
Søren Find Madsen, Head of Simulation and Modeling, has extensive experience with lightning protection systems and can help you to optimize blade designs for lean and robust manufacturing.
Mark Gejl, Head of Transport Equipment and Solutions, will tell you about reliable and cost-effective solutions for protecting your wind turbine components from being damaged during transportation from factory to site.
Rasmus Konge Johansen, Head of Materials and Processes, is an expert on the leading edge protection system called ELLE™ and can advise you on how to protect the leading edge of your blades against the forces of nature.
Sascha Kienitz, Head of Sensor and Measurement Services, can thoroughly inform you about rotor upgrade and optimization through fiber optic sensor technology applicable for blade load monitoring, ice detection and condition monitoring.
Join the digital event
Use the link below to register free of charge and get access to PolyTech's customized Wind Energy Hamburg virtual exhibition.
Read more here: http://presse.poly-techdev.dk/windenergyhamburg.pdf