VoltServer, Inc., an East Greenwich, R.I., manufacturer of power distribution products, is changing the future of energy delivery with its unique, patented Digital Electricity™ technology that safely transmits up to 2kW of power across long distances (up to 2km) using low-cost, off-the-shelf data cables.
To date, VoltServer has been deployed in hundreds of marquee venues including stadiums, airports, convention centers, office towers, hotels, condominiums, hospitals and indoor gardens, powering 4G, 5G and Wi-Fi wireless communications, LED lighting and IoT applications.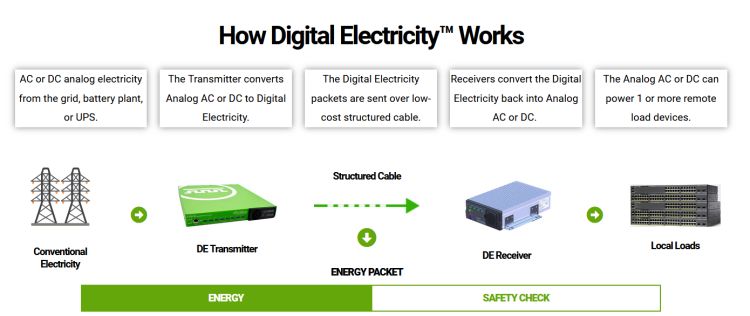 What exactly is Digital Electricity™? Digital Electricity is a line powering system, which is a means of energizing remote equipment from a centralized location over structured copper cable. It safely runs high-voltage power over lightweight data cable and delivers low current downstream to power loads. It's a natively digital form of electricity transmission that can be considered a third power format in addition to the AC and DC formats that were first harnessed nearly 150 years ago.
How does it work? VoltServer takes conventional electricity and breaks it into small pulses, or "energy packets." Each packet is sent to a receiver from a transmitter that contains local, embedded processing. Each energy packet is analyzed using a digital signal processing engine to determine that power is being precisely and safely distributed. If a fault is detected, the next energy packet is not sent. Each packet contains only a very small amount of energy, so individually they are not harmful to people, animals, systems or buildings. The receiver converts Digital Electricity back into analog AC or DC to power local loads.
Because of its inherently safe energy-transfer design, the VoltServer Digital Electricity™ platform can send power over a distance up to 2,000 meters using off-the-shelf structured copper communications cable and Class 2, low-voltage wiring methods. Similar to power-over-ethernet (PoE), this enables VoltServer to transport both digital data and power in a single hybrid cabling infrastructure, making it much easier and more economical to install than conventional 110/220 electrical systems.
Vicor Corporation has worked closely with VoltServer since they began product development. Vicor ruggedized, passively-cooled BCM® DC-DC fixed-ratio bus converters are designed into the receivers transforming the higher transmission voltage to a safe low voltage to power the loads. The 97% power efficiency allows reliable cooling without a fan within a smaller enclosure. . They provide the power efficiency that allows the receivers to be placed in tight, enclosed spaces that are too small to accommodate cooling fans. This allows the VoltServer platform to operate more efficiently with much smaller heat sinks and significantly shrinks the receiver footprint.
Learn more about Voltserver and Digital Electricity