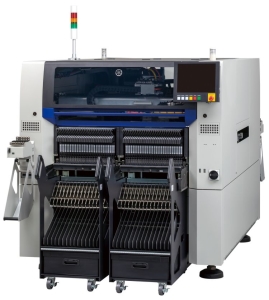 Yamaha Motor Europe announces that the new YRM20 surface mounter will launch on April 1, 2020.
Built on an all-new next-generation platform which embodies the intelligent factory, this high-efficiency premium modular mounter utilizes two head types: A newly-developed high-speed, multi-purpose rotary (RM) head that, when combined with the new high-speed feeder, delivers world class-leading mounting performance (under optimal conditions) of 115,000CPH, as well as a 1-head solution via the newly-designed in-line (HM) head which combines high speed and high versatility.
With high mounting accuracy of ±25μm (Cpk ≧ 1.0), it supports 0201 (0.25×0.125mm) sized microchip component mounting.
In addition, the newly developed conveyor can handle a maximum board width of 510mm, an optimized layout improves the transfer speed, and greatly reduces the time required for board replacement. The adoption of the overdrive motion inherited from the premium modular Σ series, which has realized high-efficiency production, reduces head entry restrictions when front and rear tables interfere, and also improves productivity.
In addition, the GUI (Graphical User Interface) on the operation screen has been renewed, making intuitive operations easy.
Product Features:
1) A new, next-generation platform that embodies the intelligent factory
The YRM20 uses a new machine-control system ready to handle a new era of escalating data speed and volume requirements at production sites. Our new speedy and robust application software interacts with peripheral systems and software seamlessly, securely, and without waste.
The new machine uses a unique and effective design created with our UP! (Unique and Proven) SMT (Surface Mount Technology) business concept.
2) A 2-head unit that combines a rotary head with a multi-purpose in-line head for world-leading productivity speed
– Next-generation, high-speed rotary (RM) head combined with Sigma technology
A newly-developed rotary head tailored to the next-generation platform works with a durable new, high-speed feeder with improved tape feeding speed to achieve outstanding productivity reaching speeds of 115,000 CPH, the fastest speed in its class in the world.
– An in-line (HM) head with a refreshed control system delivers high speed and amazing versatility
– The combination of a new servo system and ever-evolving in-line head achieves a blazing fast speed of 98,000 CPH (under Yamaha Motor's optimum conditions). Tailored to the concept of a 1-head solution, this machine can deal with ultra-small components, large components, and everything in between with one type of head in a lightning-fast, versatile package.
3) High precision, high quality mounting for miniature chips
The new design of the X beam reduces heat distortion for high-precision mounting at ±25μm (Cpk ≧1.0). This allows the machine to handle 0201-sized miniature chip components.
Mountable component sizes range from 0201 to 12 x 12 mm for the RM head and W 55 x L 100 mm for the HM head.
The new component recognition camera of the machine switches between line and area images for flexible, faster, higher-quality recognition.
In addition, new ID-linked nozzles deliver high-speed, low-impact mounting via lighter tip slides. Maintenance is also more efficient than ever because nozzles work with an auto-nozzle changer.
4) Faster production speed
The newly developed conveyor, which can handle a maximum board width of 510 mm, features an optimized layout and quicker transport speeds, significantly cutting print circuit board replacement time improving effective production tact.
The machine also uses overdrive motion, which features Sigma technology for highly efficient production. Reducing head entry restrictions when front and rear tables interfere further enhances real productivity.
5) Operating screen GUI with improved controllability and visibility via a newly designed application
The new GUI features an advanced design and an easy-to-read layout, enabling intuitive user control. The new Operator Mode enables the user to operate only the necessary controls, enhancing controllability at production sites.
Furthermore, thanks to the new vision system and interface, the time required to create parts data for components with complex shapes has been reduced significantly.