Kemet has launched KC-LINK surface mount capacitors at APEC 2018 in San Antonio. KC-LINK is designed to meet the growing demand for fast-switching wide bandgap (WBG) semiconductors. Wide bandgap semiconductors have enabled power converters to operate at higher voltages, temperatures, and frequencies, allowing for much higher efficiencies and power densities.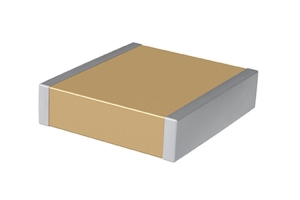 KC-LINK capacitors can operate at very high ripple currents due to superior capacitance stability over temperature and voltage, rendering them ideal for DC link, snubber and resonator applications. This is due to KEMET's robust and proprietary C0G/NPO base metal electrode (BME) dielectric system, which operates with very low effective series resistance (ESR) and thermal resistance. With an operating temperature of 150°C, these capacitors can be mounted close to fast-switching semiconductors in high power density applications which require minimal cooling.
High mechanical robustness allows KC-LINK capacitors to be mounted without the use of lead frames. This provides extremely low effective series inductance (ESL), increasing the operating frequency range and allowing for further miniaturization. Available in both commercial and automotive grades with standard and flexible termination systems, this series is Pb-Free, RoHS and REACH compliant.
For more information, please visit Kemet at www.kemet.com/KC-LINK.