30. januar 2023
CN Rood appointed Aim-TTi Master Distributor BeNeLux , Nordics & Baltics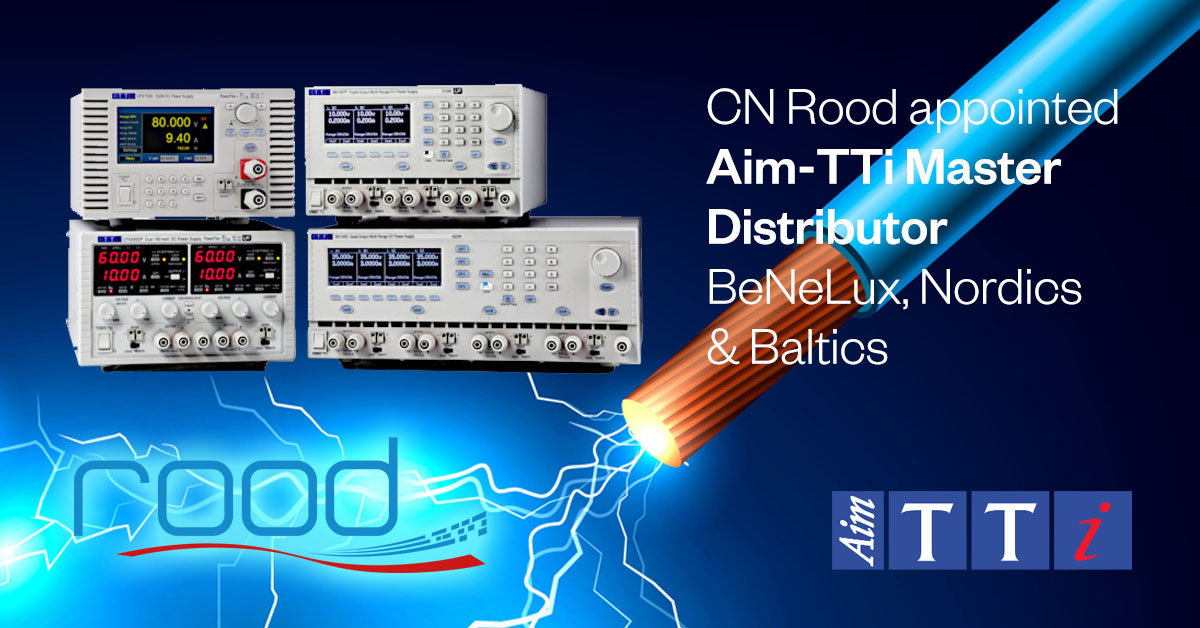 Aim-TTi are developing their regional partner network in the BeNeLux, Nordics & Baltics regions. With the appointment of CN Rood as the regional partner and Master Distributor. CN Rood are established experts in Test & Measurement, bringing expanded support for Aim-TTi customers.
Added value CN Rood
Mark Edwards (sales director at Aim-TTi) is looking forward to this new collaboration: "CN Rood brings a wide breadth of knowledge and experience to add value to the Aim-TTi range of products. CN Rood will provide local sales and technical support to customers in the BeNeLux, Nordics & Baltics regions. They will also be able to provide product demonstrations, training and after-sales service, supported by us of course. The partnership between Aim-TTi and CN Rood is a great opportunity for customers in the BeNeLux, Nordics & Baltics regions to access the Aim-TTi range of products with added local support."
Aim-TTI great addition to CN Rood portfolio
Benny Polleunis (CEO at CN Rood) sees many opportunities for Aim-TTI products. "Aim-TTi is a well known and leading brand for Programable Power supplies, Source Measure Units, RF Signal generators and Analysers, Function Arb generators, and Precision measurement products. The products are a great addition to our portfolio. We can't wait to offer the products to our customers in the Benelux, Nordics and the Baltics. We are looking forward to this new corporation!"
About Aim-TTi:
TTi (Thurlby Thandar Instruments) is a leading manufacturer of electronic test and measurement instruments for over 40 years. These products are sold throughout the world via carefully selected distributors and agents in each country. All TTi products are designed and manufactured in the UK. The portfolio of products from Thurlby Thandar Instruments (TTi) and Aim Instruments is grouped under the overall banner of Aim-TTi.
About CN Rood:
CN Rood is a leader in knowledge and solutions in the field of test and measurement equipment. Since 1938 we distinguish ourselves with a personal and customer-oriented approach. We think along with, advise and assist our customers in making the right choice in their test and measurement equipment. Amongst others we work for government, science, education, aerospace and automotive industries in the Nordics, Baltics and the Benelux where we have local presence. More than forty dedicated professionals work on solutions ranging from communication test equipment and general test and measurement instruments to data acquisition equipment and logistics automation, complemented by consultancy, training and turnkey solutions.