22. marts 2023
New AIM-TTi PowerFlex 4 quadrant Source Measure Unit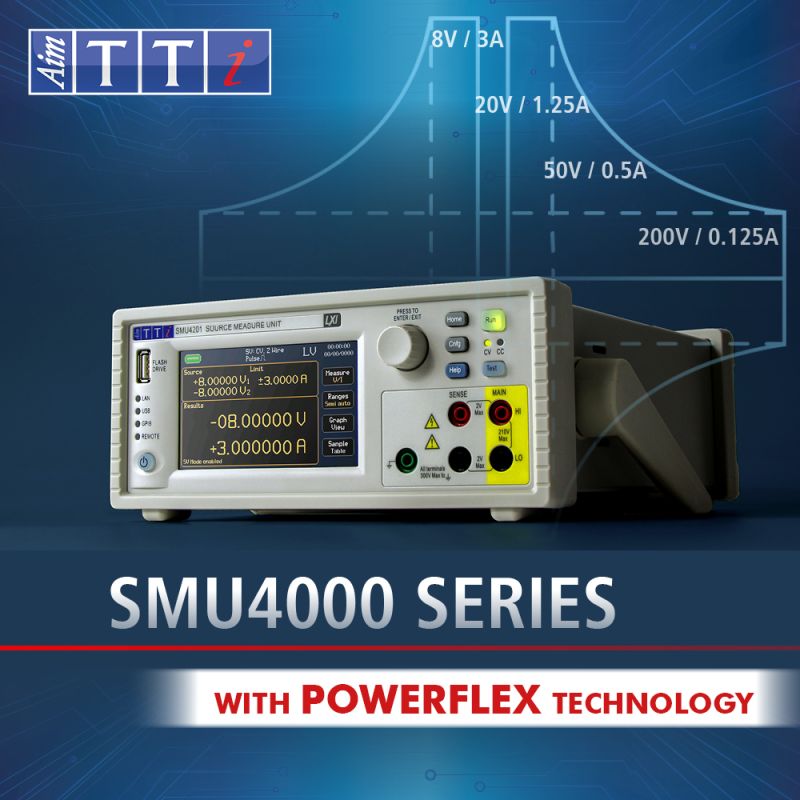 AIM-TTi has released the new SMU4000 Series. The SMU400 series provides class leading performance at a new and affordable price point for a four quadrant SMU.
Integrating a fast and agile, high power four quadrant voltage / current source and advanced precise voltage and current meters in a compact half rack 2U casing, capable of precisely supplying positive and negative voltages, sourcing or sinking power, while simultaneously measuring both current and voltage for I-V characterization.
The unique Aim-TTi PowerFlex autoranging system provides a constant power characteristic so that the current capability rises as the voltage falls. The SMU4000 achieves full instrument output power across the majority of the voltage range, unlike conventional SMUs where the maximum power can only be achieved at the top of each voltage range.
Specifications:
4-quadrant Source, Sink & Measure
0.015% basic accuracy with 6½ digit resolution.
Sense terminals for 4 wire operation and guard capabilities
PowerFlex technology: up to ±210V, up to ±3.15A (SMU4201) or up to ±21V, up to ±3.15A (SMU4001),  25W power envelope.
0.1µV & 100fA resolution
Fast measurement speeds up to 200µs (5k/s)
Continuous or pulsed high speed outputs with Linear/Log or arbitrary list sweeps
Compact size
Internal memory, up to 100k measurements, up to 100k steps
'SMU Link' allows two SMUs to be linked together for synchronous operation (optional accessory)
Full control of multiple units with Test Bridge SMU Windows software (free download)
Products
SMU4001
Source Measure Unit ±20V
SMU4201
Source Measure Unit ±200V
For more info, contact CN Rood.