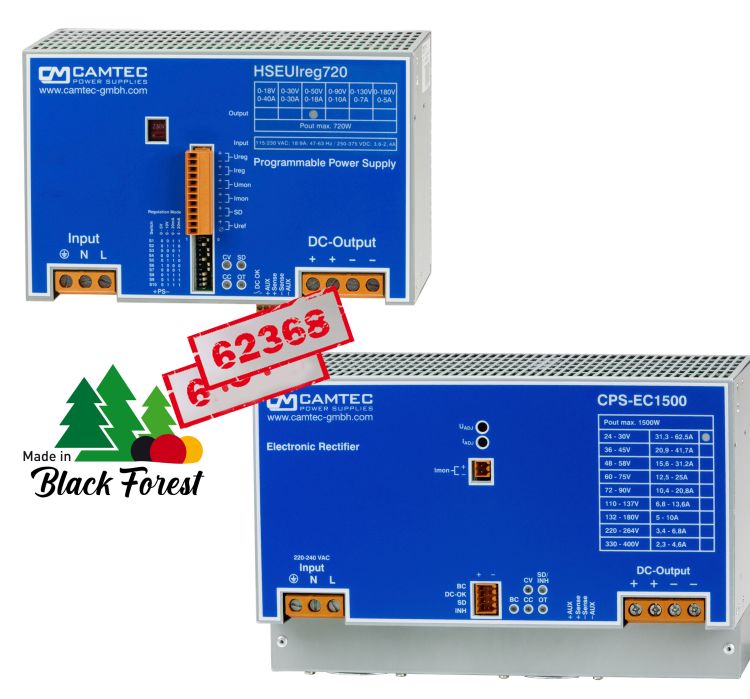 To keep customers away from issues with the new EN62368-1 standard, the Black Forest-based high-performance power supply experts from CAMTEC Power Supplies have emptied their warehouse end of last year. CAMTECs advice to engineers and purchasers for the time being:
– Beware of power supply imports from Asia and other regions not having changed to this new standard yet and better stay away from slow-sellers on stock. – All equipment produced after Dec. 20, 2020, must fully comply with the new standards. The previous standard is invalid. Oliver Walter, owner and CEO of CAMTEC:
– From our perspective of a long time experienced developer and manufacturer, it's really quiet this time about this specific change to the HazardBased Standard (HBS). For us, it was important in the respect of service to our customers, to change over in good time, to provide clarity for them.
A group which finds it hard to get clarity for now, are importers and purchasers who want to use imported power supplies. Many countries – among them several Asians like China and Korea with relevant supply share – have not yet adopted EN62368-1 into their national standards, but are just "accepting" it. Based on delay in the introduction of the standards outside Europe, it is advisable to check imported goods as well as power supplies integrated in devices carefully. What must be kept in mind is, that the legal risk for the goods is borne by the importer and distributor. The manufacturer will not be held accountable in case of obsolescense of the norm. (List of IEC 62368-1:2018 deviations: https://www.iecee.org/dyn/www/f?p=106:56:0::::FSP_STD_ID:27412)
On the other hand, anyone who purchases equipment that already conforms to EN62368-1 is fully compliant in the European market.
However, it is impotant to consider that EN62368 is not applicable or the right choice in all cases. Currently the general statement that EN 62368-1 is the successor to EN 60950-1 makes users believe, that the new standard must be used in all cases. A closer look at the particularly international context shows, the effort and expense of converting to EN62368 isn't required in all cases. Mainly power supplies in the industrial environment often do better, using the standards of the N/IEC/UL 61010 series together with the old IEC 60950-1, as 61010 is fully harmonized with UL and therefore grantedly accepted in the American market. Similar procedures: If the deviations of ANSI/UL 61010-1 are taken into account in the approval according to IEC 61010-1 and IEC 61010-2-201, a UL mark can be applied for via CB-procedure. The same applies to the Canadian standards CAN/CSA-C22.2 No. 61010-1 and CAN/CSA-C22.2 No. 61010-2-201.
Our solution: Camtec Power Supplies equipment complies with EN61010-1, EN61010-2-201, EN62368-1, EN60950-1, which harmonize with the requirement for equipment and machinery according to EN60204-1.