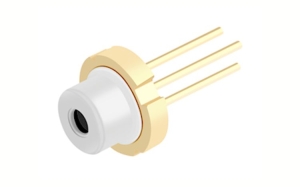 Multi Mode in the InGaN portfolio: The blue multi-mode laser diodes PLPT5 447KA and 450KA from Osram Opto Semiconductors are available as 1.6 and 2.2 Watt versions with a wavelength of 447 nm. The indium-gallium-nitride diodes are edge emitters, which are built into a hermetically sealed TO package. The high-power lasers in the Metal Can® TO56 package are an efficient radiation source and offer a high modulation bandwidth. The Osram laser diode portfolio is available at http://www.rutronik24.com.
For example, the PLPT5 447KA achieves an optical output of 1.6 W at an operating current of max. 1.5 A. It emits blue light at a wavelength of 447 nm. In combination with a special phosphor, the blue light of the laser turns white. The luminance of this white light source is many times higher than that of a comparable LED. With laser light spot illumination focused to a few micrometers is possible. The PLPT5 447KA laser diode is also equipped with ESD protection.
Both new laser diodes operate without problems at temperatures  from -20 °C to 85 °C. The combination of a small form factor and high beam quality makes them particularly suitable as light sources for show lasers and stage lighting, but also for projectors in business and private environments and for use with electronic equipment.
For more information about Osram's blue high-power laser diodes and a direct ordering option, please visit our e-commerce platform at  http://www.rutronik24.com.