31. januar 2023
Spectrum Analysis Fundamentals Seminar
We invite you to our free seminar:
Spectrum Analysis Fundamentals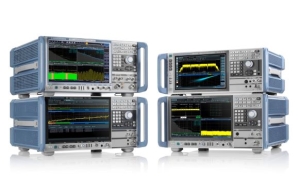 This is your opportunity to get the fundamental aspects of spectrum analysis in place. Whether the topic is new to you or you just want to refresh your memory.
Content:
Presentation of the fundamentals, theoretical & practical features of using a Spectrum Analyzer, including:
Spectrum Analyzer buildup/block diagram
Signal-to-noise ratio
Dynamic range
Compression point
Resolution BW filter, filter types, video filter
Detector types
Analogue modulation types, as well as measurement of these
The individual topics are reviewed theoretically and supplemented with practical measurements.
Agenda:
08.30 – 09.00 Registration & Refreshment
09.00 – 12.00 Seminar
12.00 – 12.30 Refreshment & Networking
Since the seminar will take place in three different locations, we ask you to choose your favorite location and register already now to save your spot.
The seminar is aimed at engineers, technicians and decision-makers working with electronics design and testing. Our seminar is open to all, not only R&S equipment users.
There will be a limited number of seats at the different locations, so save your spot now!
Date: March 7, 2023
Time: 08.30-12.30
Venue: Scandic Aalborg Øst, Hadsundvej 200, 9220 Aalborg Øst
Save your seat for Aalborg
Date: March 8, 2023
Time: 08.30-12.30
Venue: SDU Sønderborg, Alsion 2, 6400 Sønderborg, "Den røde mødeboks"
Save your seat for Sønderborg
Date: March 9, 2023
Time: 08.30-12.30
Venue: Rohde & Schwarz Herlev, Mødelokale "Mensa", Lyskær 3D, st., 2730 Herlev
Save your seat for Herlev
Please note, a no-show fee (500 DKK) will apply, in case of no-show without cancellation!
Please don´t hesitate to contact us for any further information.
(info.rsdk@rohde-schwarz.com – 4343 6699)
We look forward to welcoming you!
Your Rohde & Schwarz Team