15. januar 2019
NY! Tektronix AFG31000 Arbitrær Generator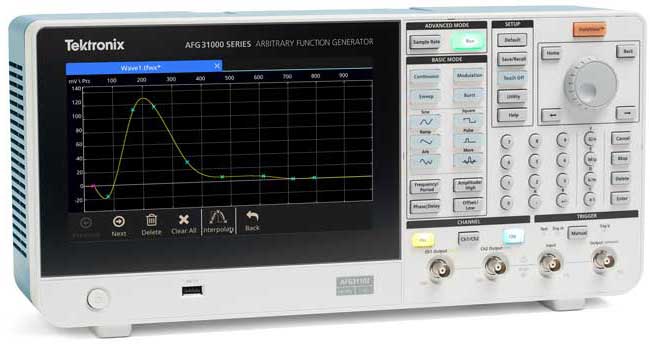 Tektronix AFG31000 serien med InstaView™ teknologi er den første performance AFG med indbygget applikation til waveform generering, patenteret real-time monitorering og et moderne brugerinterface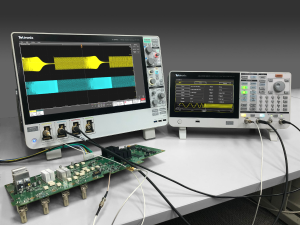 Specifikationer:
1 eller 2 kanaler
Output amplitude range 1 mVP-P til 10 VP-P (50 Ω loads)
Basic (AFG) mode:
25 MHz, 50 MHz, 100 MHz, 150 MHz, eller 250 MHz sine waveforms
250 MSa/s, 1 GSa/s eller 2 GSa/s sample rates
14-bit opløsning
Standard waveforms: sine, square, ramp, pulse, noise mfl.
Sweep, Burst, og Modulation modes (AM, FM, PM, FSK, og PWM)
Advanced (Sequence) mode:
Continuous mode (option: Sequence, Triggered og Gated modes)
16 Mpts arbitrary waveform hukommelse på hver kanal (128 Mpts som option)
Op til 256 steps i sequence mode med loop, jump og wait events
Variabel sampling clock 1 µSa/s til 2 GSa/s
Patenteret InstaView™ teknologi gør det muligt at se det faktiske signal ved DUT'en i real-time, uden brug af oscilloskop.
Med sekvens optionen er det muligt at programmere lange komplekse waveforms med op til 256 trin
9-tommer touchskærmen fungerer lige som en telefon, og har genveje til de mest bruge indstillinger
Med ArbBuilder applikationen er det let at lave og ændre arbitrære waveforms direkte på instrumentet
Applikationer hvor Tektronix AFG31000 er det perfekte instrument:
Advanced research
Clock and system synchronization
Replication of real world signals
Component and circuit characterization and validation
Embedded circuit design and test
General purpose signal generation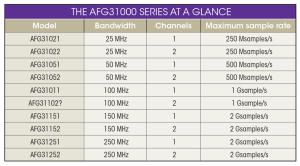 Link til hjemmeside: Tektronix AFG31000 Serien
Youtube video: Tektronix AFG31000 Serien
GOmeasure er dansk forhandler af Tektronix. Kontakt os på salg@GOmeasure.dk eller 31 33 18 19.