8. september 2020
Autumn webinar series upcoming Register now!
In September, we start our new R&S Webinar series in English and in Finnish.
Our application engineers and product managers will present and demonstrate different features and application possibilities across a wide range of our product areas including R&S oscilloscopes, signal analyzers, signal generators and power supplies.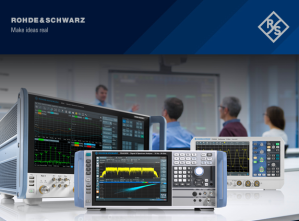 Each webinar consists of a technical presentation, a practical demonstration and a Q&A session, where the participants have possibility to ask questions to our technical experts in a live situation.
Our webinar series starts with the following topics:
… and after that we will continue with many interesting webinars throughout the rest of the year.
Just click the link below to find out more about our upcoming webinar program and schedule for the autumn.
A more detailed description of the content of each webinar is available on the registration page.
Sign up for our R&S webinars today!