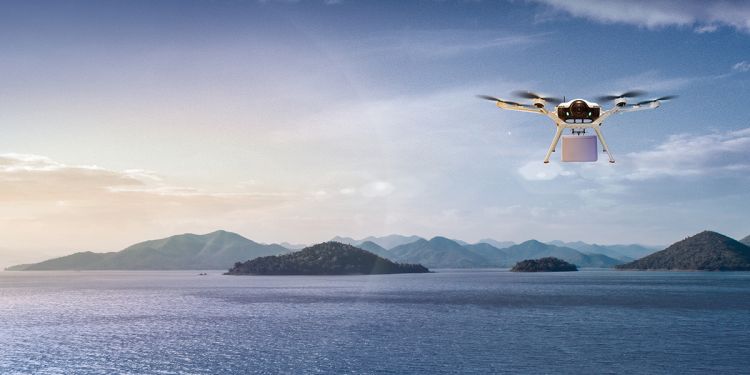 Doosan Mobility Innovation (DMI) is delivering humanitarian relief to remote locations using drones powered by its innovative energy-dense hydrogen fuel cells. With two hours of flight time, the drones have transported masks and emergency supplies between US Virgin Islands and have delivered medical AEDs to the top of Mt. Hallasan (6,388 ft), the tallest mountain in South Korea located on Jeju Island. This technology paves the way for developing mobile robots with extended range and load capacity.
Additional uses for the DMI extended-range drones have been in commercial applications where longer flight times have enabled the monitoring of vast solar farms such as Korea's largest solar energy plant in Solasido, Haenam. When performing the same mission using a battery-powered drone, more than six battery replacements were required.
Developing a hydrogen fuel cell for mobile devices requires overall technological innovation from materials science to full system-level design optimization. The key to mobility is miniaturization, increasing efficiency and lowering system weight. Moreover, high energy output and durability should be incorporated for a long, stable flight. Therefore, it is necessary to reduce the weight of the stack, configure a powertrain with high power density and simplify the design of the overall power pack, including peripheral components, to fully optimize the system.
Core to these design goals is the architecture and implementation of the systems power delivery network (PDN). The DP30 power pack has two main powertrains that supply power to the drone's rotors and to the controller for the two stacks. Because of the wide range and variable output voltage of the DP30 power pack, from 40 to 74V, the powertrains were designed to ensure a tightly regulated 48V, 12A output to the rotor motors of the drone, plus a 12V, 8A output to the stack controller board and fans.
To achieve high efficiency and high energy density in the PDN, DMI selected Vicor PRM™ buck-boost regulators and a ZVS buck regulator. The PRMs support the up to 74V open circuit voltage (OCV) of the hydrogen fuel cell stack and perform a stable voltage regulation to 48V as shown in Figure 5.
In the drone's rotor-side PDN, two PRM buck-boost regulators (PRM48AF480T400A00) are configured in parallel to supply the 12A required by the rotors. The PDN for the digital controller board in the stack, uses a lower-power PRM (PRM48AH480T200A00) followed by a 48V-to-12V ZVS buck regulator (PI3546-00-LGIZ).
Learn more about Doosan Mobility Innovations' hydrogen fuel cell power pack