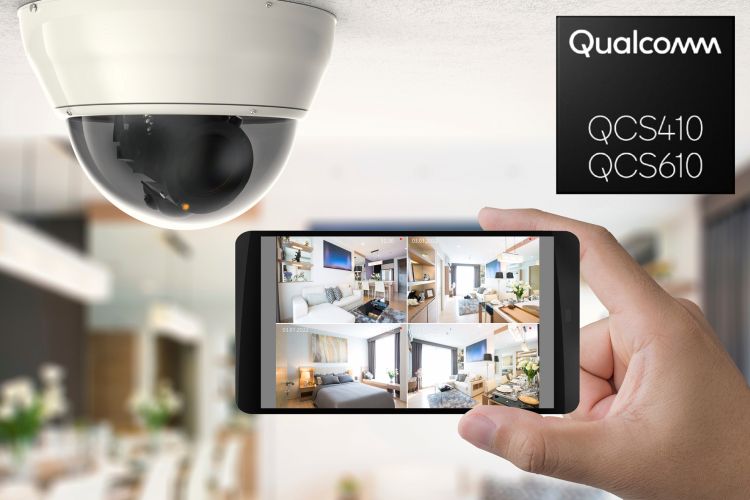 Atlantik Elektronik, provider of innovative wireless solutions, presents the next generation of Systems on a Chip (SoCs) for smart cameras from Qualcomm. These are designed to take artificial intelligence in smart cameras to a new level.
Qualcomm brings advanced Artificial Intelligence and Machine Learning capabilities to address multiple tiers of smart cameras with new System-on-Chips (SoCs).
Qualcomm Technologies, Inc. announced Qualcomm® QCS610 and Qualcomm® QCS410 system-on-chips (SoCs) to the Qualcomm® Vision Intelligence Platform. The QCS610 and QCS410 are designed to bring premium camera technology, including powerful artificial intelligence and machine learning features formerly only available to high end devices, into mid-tier camera segments. This comes at a time when intelligence at the wireless edge and robust connectivity are increasingly becoming the bar to overcome for smart camera applications in smart cities, commercial and enterprise, homes, and vehicles.
With the launch of QCS610 and QCS410, Qualcomm are addressing increased customer demand for more integrated capabilities and improved AI-features with a variety of connectivity options – all in a cost-effective solution. These enable customers to take advantage of these exciting new features across a wider range of products.
The QCS610 and QCS410 bring a highly integrated solution designed with multiple features to deliver a one-stop shop for our customers building camera-based devices. The new platform is built with our upgraded Qualcomm® KryoTM CPU, Qualcomm® AdrenoTM GPU and Qualcomm® HexagonTM DSP and includes our Qualcomm® Artificial Intelligence (AI) Engine designed to deliver up to 50% improved AI performance than the previous generation. This latest generation was re-architected to deliver improved efficiencies and faster inferencing in the DSP resulting in more computing power and AI inferencing at the device level. Keeping the key workloads on the device can provide privacy and significantly reduce latency for the best user experience.
The Qualcomm Vision Intelligence Platform supports Linux and Android OS for a variety of IoT segments, including camera, Edge AI box, retail and robotics. Further enhanced capabilities include support for Microsoft Azure Machine Learning and Azure services. Dual ISPs support Video capture, Integrated audio, GNSS, hardware-based security and Qualcomm Technologies' multiple connectivity options including 5G/4G, Wi-Fi, Bluetooth and Ethernet make this one of the most robust and advanced set of features available for smart cameras in a single SoC.
Atlantik Elektronik GmbH
http://www.atlantikelektronik.de