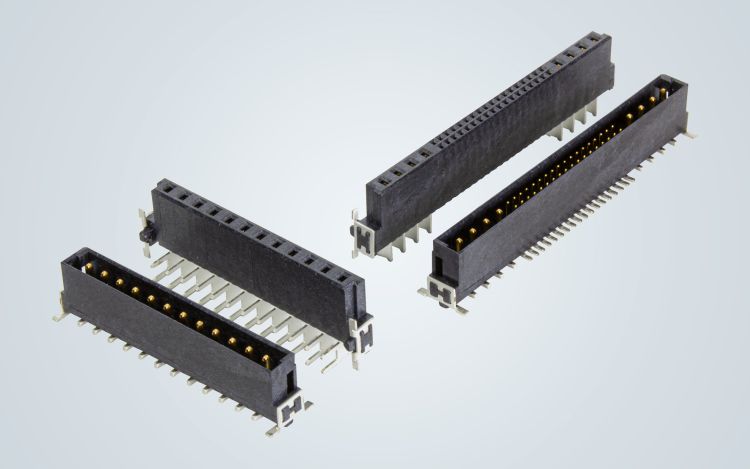 In the autumn of 2020, the PCB Connectivity sector will be taking centre stage. With the introduction of the har-modular®, HARTING is presenting an absolute world first for the connection of PCBs. A modular concept based on the reliable DIN 41612 strips, but modularly configurable as from batch size 1. Modularity is thereby completely redefined for design-in devices. Thanks to an online configurator, it is possible to select from a trillion possible combinations and thereby always arrive at the ideal solution, even for small series and prototypes. This represents an enormous simplification of work and time savings on the way to the finished product. True to the claim of CREATE YOUR OWN, users can choose from any number of contacts for power, signals and data. Where several connectors used to be necessary, har-modular® combines all the desired lifelines in one single connection.
The flexible portfolio revolving around the miniaturised PCB connector har-flex® in 1.27mm pitch is extended by power variants for even greater scope of freedom and also includes hybrid solutions combining power and signals. This combination eliminates the use of separate power and signal connectors on the board. Both lifelines are thereby combined in a single space-saving connection.
The power variants also reduce the space required for power transmission as opposed to conventional, previous solutions. Here, users have often taken the path of conducting power via several signal contacts connected in parallel. Naturally, this results in a higher number of contacts, which accordingly require more space. Thanks to har-flex® Power, this power can now be transmitted over approximately half the required surface area. Consequently, har-flex® variants are once again making vital contributions to the miniaturization megatrend.
More information at http://www.HARTING.com