8. august 2016
Wouldn't it be nice to see into the future? Discover Sherlock!
With Sherlock by DfR Solutions, you can. Sherlock is a new Automated Design Analysis Tool that allows you to predict product failure earlier in the design process, allowing you to design reliability right into the product. And with results in hours instead of weeks, you'll be able to deliver these products faster and more efficiently, contributing to your customer's success. Didn't see that coming, did you?
Fa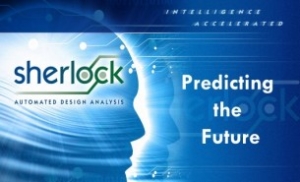 st
Get Rapid feedback on product designs
Generate reports in minutes
Intuitive
Easy to deploy and use
Perfect for all levels of engineering and management
One of a Kind
Physics of Failure (PoF) analysis provides more accurate reliability predictions
Deeper and broader analysis than any other tool on the market
Industry Focus
See how Sherlock Automated Design Analysis™ can help your industry design more reliable products faster and more efficiently!
Alternative Energy
Automotive
Components
Consumer / Appliance
Contract Manufacturers
Industrial / Power
Medical
Military / Avionics / Space
Mobile
Telecommunications