18. februar 2022
Tracing on the Race Track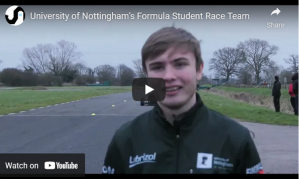 Meet Frankie, the University of Nottingham's Race Team's fully electric 2WD vehicle, able to achieve speeds of up to 80mph (129 km/h). The Team uses Percepio Tracealyzer to test the functionality of their embedded software while writing the code, to record the trace while Frankie is running, and to review the data afterwards. And with great results.
Frankie placed third overall in the 2021 Institute of Mechanical Engineers' annual Formula Student competition; was the highest classified electric vehicle; and took first place in the Business Presentation competition.
For the latest generation of Frankie software, the team moved from an interrupt-driven bare-metal system to FreeRTOS. This allowed them to work at a higher level of abstraction and achieve a better software design, but it also brought new challenges in debugging and validation. Challenges that Percepio Tracealyzer helped them overcome.
Percepio is proud to support this dynamic and driven group whose focus is to develop the electric vehicle of the future through its free academic license program.