27. januar 2022
Percepio Resumes Free Monthly Webinar Series Loaded with Debugging Tips to Assist Embedded and IoT Developers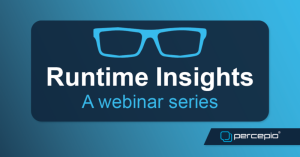 Percepio®, the leader in visual trace diagnostics for embedded systems and the Internet of Things (IoT), kicks off the 2022 Runtime Insights webinar season on 1 February at 10:00 CET with a session focusing on the development and debugging of Azure IoT systems. During the free 45-minute webinar, Senior Percepio Field Applications Engineer Kristoffer Martinsson will explain what is needed for using Tracealyzer with Azure RTOS ThreadX and demonstrate how the recently integrated trace recorder, which adds support for streaming recording, benefits developers.
For more information and to register, visit https://percepio.com/runtime-insights-register/
Runtime Insights is a monthly webinar and roundtable about embedded and IoT software development hosted by Percepio on the first Tuesday of every month. Exploring a different topic each month, the aim is to share tips and best practices on designing and debugging embedded software with visual tracing. The webinars are free to attend and there is ample opportunity to ask questions at the end.
Previous webinars, covering topics such how to use Tracealyzer with the Zephyr RTOS,  how to verify task timing and scheduling or how to analyze application runtime behavior, are available on demand here. Registration is not required.
About Percepio
Percepio is the leading provider of visual trace diagnostics for embedded and IoT software systems in development and in the field. Percepio Tracealyzer combines software tracing with powerful visualizations, allowing users to visually spot and analyze issues in software recordings during development and testing. Percepio DevAlert is a cloud service for monitoring deployed IoT devices, combining automatic, real-time error reporting with visual trace diagnostics powered by Tracealyzer. Complimentary evaluation licenses are available for both products.
Percepio collaborates with leading vendors of processors and operating systems within embedded system and IoT such as Infineon, NXP Semiconductors, STMicroelectronics, Renesas Electronics, Wind River Systems and Amazon Web Services. Percepio is based in Västerås, Sweden. For more information, visit percepio.com.