5. december 2017
New ITT Cannon lightweight plastic APD Series connectors now with modular interface for optimum flexibility – available at TTI
New ITT Cannon lightweight plastic APD Series connectors now with modular interface for optimum flexibility – available at TTI
IP67/IP69K rated; meets ISO 15170; suits cabin to chassis transport applications
December 2017 – Available at TTI, Inc., a world leading specialist distributor of electronic components, ITT Cannon APD Series connectors are lightweight plastic interconnects with bayonet coupling and optional secondary locking. Rated to IP67/IP69K against water and dust ingress, the ITT Cannon APD Series now has a modular interface that offers maximum flexibility for the management of cabin to chassis interface and inline connectors in transport applications.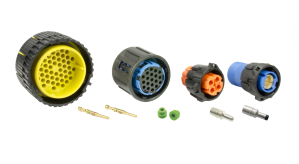 Originally developed for the harsh environments found in the agricultural, construction, truck and bus market where high sealing grades have to be met, the robust APD connector family is designed according to ISO 15170 specifications. Lightweight and field-repairable, the APD Series includes 1-and 2-way high power, VDE-certified 4-way high voltage and up to 51-way high-density connectors.  ITT Cannon has now added the new Modular APD Interface, a unique and innovative system enabling configuration and interchangeability of multiple APD connectors.
Further specifications of APD Series connectors include: temperature range of -40degC to +125degC; high power or high voltage up to 245A/maximum voltage 500VAC/DC; wire range 0.35 – 50 mm² (AWG 22 – AWG 0); plug, flange, snap-in and jam nut versatile mounting styles; 1, 2, 4, 6/7, 19, 37 and 51 way configurations.
Applications include chassis, gear box, cooling and heating systems, signal and power distribution, lighting, engine control unit, dashboard harnessing and others.
About TTI
TTI, Inc. a Berkshire Hathaway company, is an authorized, specialty distributor of interconnect, passive and electromechanical (IP&E) components and the distributor of choice for industrial and consumer electronics manufacturers worldwide. Broader and deeper inventory, leading-edge products and custom supply chain solutions have established TTI as the leading specialist in electronic component distribution. Globally, the company maintains two million cubic feet of dedicated warehouse space containing over 850,000 component part numbers. Along with its subsidiaries, Mouser Electronics, Sager Electronics, and Symmetry Electronics. TTI employs over 5,400 employees and is represented in over 100 locations throughout North America, Europe and Asia. For more information about TTI, visit www.ttieurope.com.
For further information contact:
TTI, Inc.
Tel: +49 8142 6680 – 0
For Press Information contact:
TTI, Inc.
Jessica Ann Garry
Director Marketing Communications – Europe
T: +49 8142 6680 – 473
F: +49 8142 6680 – 9473
E-mail: Jessica-ann.garry@de.ttiinc.com
Or
Anna Johnston
BWW Communications
Tel: +44 1491 636393
Fax: +44 1491 636383
Email: anna.johnston@bwwcomms.com