26. august 2016
Electrical and Wire Harness – Capital®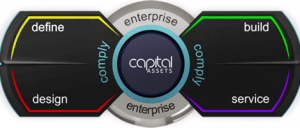 Built for electrical and wire harness design
Capital is an advanced software suite for the electrical system & wire harness domain. Used by leading automotive, aerospace and harness makers, Capital is built to support the complex demands of integrated processes from initial vehicle definition through design, manufacture and service.
Capital – A Platform Level Electrical Environment
Capital is a suite of software applications that efficiently creates and utilizes electrical design data. Theapplications respond to the ever-growing importance and complexity of vehicle electrical/electronic systems. Powerful technologies help optimize business value by reducing the design, validation, manufacturing & servicing costs associated with electrical distribution systems and wire harnesses.
Developed for transportation platforms such as aircraft, automobiles and off-road vehicles, Capital is scalable from small, localized projects through to complete enterprise wide deployments. The suite spans an extended flow from vehicle concept and electrical architecture definition to wire harness manufacture and vehicle maintenance. The core Capital tools can be implemented individually or deployed together in a unified flow that seamlessly matures data within a consistent environment. Robust integration with adjacent domains (such as MCAD and PLM) is fully supported, as is cross-organizational collaboration.
Call (45) 898 823 42 or email us for more information