21. april 2017
Proven portable mode 2 cordset for electric vehicle charging from Delphi now in stock at TTI, Inc.
Proven portable mode 2 cordset for electric vehicle charging from Delphi now in stock at TTI, Inc.
April 2017 – The new convenient and portable mode 2 electric vehicle charging cordset from Delphi can now be sourced in Europe through TTI, Inc., a world leading specialist distributor of electronic components. It enables owners of electric vehicles to safely charge their vehicles anywhere from an available 240VAC grid supply.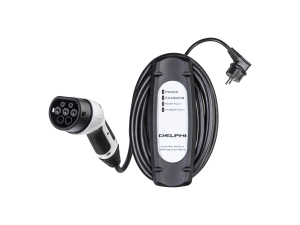 The technology used in the high-quality cordset offers a seamless transition between automotive and residential/commercial environments. The user-friendly system plugs into existing electrical infrastructure and is dedicated for global applications based on local supply voltage and grid plug interface. Advanced ergonomics and user interface includes a simplified LED display providing charging status information (power, charging, power fault, charging fault). The robust sealed cord connector design (NEMA 4 construction) protects against harsh conditions with high water and dust protection including flexibility to provide a reliable charge to an electric vehicle despite the various voltage and earthing systems present in different parts of the world.
The cordset meets IEC 62196 Type II specifications and features a cable length of 5 metres. The unit will self-check and resume charging after a circuit trip. The female plug of the charge coupler connector mates directly to a built-in male inlet on the vehicle. All terminal interfaces and crimps are sealed from the environment when mated.
About TTI, Inc.
TTI, Inc., a Berkshire Hathaway company, is one of the world's leading specialist distributors of passive, connector, electromechanical, discrete, power and sensor components. TTI's philosophy is "Lead by Design", and the company differentiates itself by focusing on people, parts and process. TTI in Europe strives to be the distributor of choice for customers and suppliers alike by introducing new product technologies and by stocking broad and deep inventory across its franchise base. TTI's sophisticated inventory management system ensures the ability to service changes in demand due to fluctuating markets and supply chains. For more information about TTI, please visit www.ttieurope.com.
For further information contact:
TTI, Inc.
Tel: +49 8142 6680 – 0
For Press Information contact:
TTI, Inc.
Jessica Ann Garry
Senior Marketing Communications Manager Europe
T: +49 8142 6680 – 473
F: +49 8142 6680 – 9473
E-mail: Jessica-ann.garry@de.ttiinc.com
Or
Nick Foot
PR Director, BWW Communications
Tel: +44 1491 636393
Fax: +44 1491 636383
Email: nick.foot@bwwcomms.com