11. juni 2019
Panasonic Industry Europe introduces a new High Vibration Acceleration-resistant Power Choke Coil
Panasonic Industry Europe introduces a new High Vibration Acceleration-resistant Power Choke Coil
To integrate ECUs within the engine Panasonic developed the new ETQP5M2R5YSK power choke coil for automotive use. Thanks to the high vibration resistance no anti-vibration reinforcement is needed and therefore streamlines the production process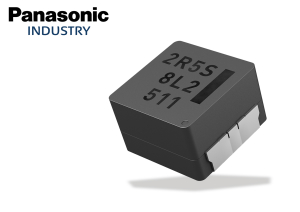 Munich, June 2019: In an ever growing market for environmentally friendly and energy efficient cars the electrification of the automotive sector is progressing. More and more electric motors and therefore Electric Control Units (ECUs) are being integrated into vehicles to improve efficiency and comfort. To achieve a compact and resilient solution the number of ECUs that are mounted within the engine itself is increasing. As a consequence the components of these ECUs require a high-temperature rating, support large current and have to sustain severe vibration conditions.
Especially for these requirements Panasonic Industry introduces a new Power Choke Coil with high resistance to heat and vibration in addition to the support for large current. Thanks to the use of ferrous alloy magnetic material, the new ETQP5M2R5YSK provides an excellent inductance stability even at high bias current input and over a broad temperature range up to 150°C. The new Power Choke Coil is AEC-Q200 qualified and features a low audible buzz noise. With its resistivity of 50 G or higher vibration acceleration it is the perfect application for automotive use in ECUs placed in the engine itself and mechanical-electrical-integrated ECUs. Also it is suitable as noise filter for various drive circuitry which require high temperature operation and peak current handling capabilities. Similarly Boost-Converter and Buck-Converter DC/DC applications are a suitable operation purpose.
Specifications
Name
Case Size (LxW) mm
Inductance *
DC Resistance (at 20°C) **
Ratet Current

***

ETQP5M2R5YSK
8.5 x 8.0
2.45 uH
7.4 mΩ
12.0A
*Measured at 100 kHz
** Typical value
***DC current which causes temperature rise of 40K. Parts are soldered by reflow on four-layer PWB (1.6 mm FR4) and measured at room temperature
Vibration durability conditions
| | |
| --- | --- |
| Vibration Acceleration | 50G(490 m/s2) |
| Frequency | 5~2000Hz |
| Amplitude | 5mm max. |
| Vibration directions, number of times (Time) | X, Y, Z directions, 108 times (equivalent to 100 h) |
| Temperature | 150°C (including product's self-heating when energized) |
Applications:
Electric Pump Input Filter
Electric Fan Motor Input Filter
Direct Injection Input Filter / Boost Choke
Breaking System Input Filter
EGR Input Filter
Electric Compressor Input Filter
EPS Input Filter
Start & Stop Buck-Boost & Input Output Filter
Body Electric System Input Filter
###
About Panasonic Industry Europe
Panasonic Industry Europe GmbH is part of the global Panasonic Group and provides automotive and industrial products and services in Europe. As a partner for the industrial sector, Panasonic researches, develops, manufactures and supplies technologies that support the slogan "A Better Life, A Better World".
The company's portfolio covers key electronic components, devices and modules up to complete solutions and production equipment for manufacturing lines across a broad range of industries. Panasonic Industry Europe is part of the global company Panasonic Industrial Solutions. More about Panasonic Industry Europe: http://industry.panasonic.eu
About Panasonic
Panasonic Corporation is a worldwide leader in the development of diverse electronics technologies and solutions for customers in the consumer electronics, housing, automotive, and B2B businesses. The company, which celebrated its 100th anniversary in 2018, has expanded globally and now operates 582 subsidiaries and 87 associated companies worldwide, recording consolidated net sales of US$72.10 billion for the year ended March 31, 2019. Committed to pursuing new value through innovation across divisional lines, the company uses its technologies to create a better life and a better world for its customers. To learn more about Panasonic: http://www.panasonic.com/global.