20. april 2017
Panasonic launches new Hybrid Capacitors line – ZE Series
Panasonic launches new Hybrid Capacitors line – ZE Series
ZE series optimises designs for performance, cost low leakage current, long life, low ESR values
Munich, April 2017: Hybrid Capacitors from Panasonic Automotive & Industrial Systems Europe, combining the advantages of electrolytic capacitors with those of solid Polymer Capacitors, have established themselves as reliable and versatile solutions in automotive and industrial applications alike. Hybrid technology offers low leakage current and long life in combination with low ESR (20mΩ) in miniature case sizes.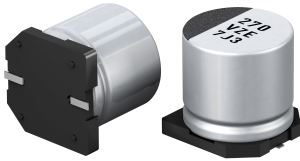 Panasonic new EEH-ZE series (Type V-ZE) Hybrid Aluminium Electrolytic Capacitors are ultra-high-temperature capacitors that have an endurance of 2,000 hours at 145°C. The surface-mount conductive Polymer Hybrid components offer a nominal capacitance range of 33µF up to 330µF, at voltage ranges from 25VDC up to 63VDC, and feature an operating temperature range of -55°C up to 145°C, as well as low ESR and high ripple current. The products are AEC-Q200 compliant,  can endure high humidity conditions rated at 85°C/90% – 2,000h while offering tiered ripple current ratings at 135°C and 145°C.
Comments Andreas Lapucha, European Product Manager for Polymer Capacitors at Panasonic: "Our new Hybrid Capacitors are ideal for a broad spectrum of applications including input/output filtering in power converters and voltage regulators, power and battery decoupling and clock circuitry. Their endurance and low ESR makes them ideal for use in automotive applications, servers, base stations and industrial PCs, yet they are small enough for wireless and IoT designs."
More details at: https://eu.industrial.panasonic.com/products/capacitors/polymer-capacitors/polymer-hybrid-aluminium-electrolytic-capacitor/series/ze-high-temp-reflow/ABA0142?reset=1
About Panasonic Automotive and Industrial Systems Europe:
Panasonic Automotive and Industrial Systems Europe (PAISEU) is a company that provides unparalleled expertise to leading car manufacturers, industrial customers and OEMs. It researches, develops, manufactures and supplies key electronic components, devices and modules up to complete solutions across a broad range of industries; and provides production equipment which builds the manufacturing lines of global corporations.
Globally, Panasonic's Automotive and Industrial Systems company is responsible for over one third of Panasonic's overall revenue.
For further product information, please visit: http://eu.industrial.panasonic.com/