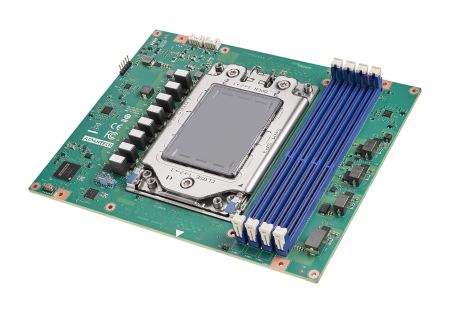 Advantech – a leading provider of embedded computing solutions – introduced the world's first COM-HPC Server-on-Module with AMD EPYCTM 7003 Embedded processors at embedded world 2022. With 64 cores, the new COM-HPC Size E Server-on-Modules (200 x 160 mm) provide more than triple the number of available edge server cores compared to any other COM-HPC server module on the market offering edge server engineers an immense performance leap. Typical applications of the new COM-HPC benchmark module can be found in industrial-grade network technology such as VPN gateways and firewalls with high data throughput requirements of up to 100 GbE and fast buffer storage, telecommunication, and critical edge infrastructures such as 5G base stations, complex mixed-critical industry 4.0 edge servers, or even radar and sonar applications deployed in the security and defense sector. The benefit of the Server-on-Modules approach in these applications lies in the fact that it is faster and more cost efficient to develop a dedicated server design. As a result, industrial-grade server equipment providers are able to design fully customized solution platforms even for lower volume projects as typically found in industrial applications.
"The launch of the new COM-HPC Size E Server-on-Modules with the powerful AMD EPYC 7003 Embedded processor series enables us to move quickly into the emerging market of modular edge servers, which is very important. Remember that standard server designs are engineered for high-volume sales and offered with largely uniform feature sets. Bringing server-class processing performance to the embedded and edge server space produces customization needs; and Server-on-Modules address these needs with the processor module and carrier board design principle that is proven and that has been widely deployed for several decades," explains Dirk Finstel, Associate Vice President Embedded IoT & CTO Europe at Advantech.
"For many years, we have seen the need for customization in the embedded computing area. The high efficiency of combining modules with custom carrier board designs is the major reason for the massive success of Computer-on-Modules. COMs are the most used board-level products in the embedded computing space. With the COM-HPC Server-on-Module specification, this design principle is now also available for a broad range of entry-class server processors up to the recent AMD EPYC Embedded 7003 processors," says PICMG President Jess Isquith to underline the importance of the new Server-on-Module specification which Advantech, as a member of the PICMG COM-HPC subcommittee, has been integral in defining.
"It is impressive how quickly Advantech has taken the opportunity to provide our server processors on Server-on-Modules that comply with the new COM-HPC server standard. It shows us that the embedded edge and embedded network server market is gaining significant momentum and that the digitalization of Industry 4.0 factories and critical infrastructures creates a huge need for customized system designs. With massive generic PCIe Gen 4 lanes, our EPYC 7003 CPUs are ideally designed for tailoring servers to dedicated tasks," said Amey Deosthali, Director of Product Management, Adaptive & Embedded Computing Group at AMD.
Besides the embedded computing power of up to 64 cores and multiple generic PCIe Gen 4 lanes, Advantech's new SOM-E780 Server-on-Module also boasts the high energy efficiency engineers can have for x86 servers, delivering exceptional performance, reducing energy costs and enabling even passively cooled solutions. Another benefit is the single socket approach, which helps to minimize licensing costs compared to any dual-socket server design. Built on AMD 'Zen 3' microarchitecture-based cores and the AMD Infinity Architecture, AMD EPYC 7003 Series processors provide a full feature set across the stack, with industry leading I/O lane counts, 7nm x86 CPU technology, and an integrated security processor on die. They also offer up to 32 MB of L3 cache, 4-6-8 memory channel interleaving to optimize performance in multiple DIMM configurations, and synchronized clocks between fabric and memory – technologies that come together to drive leadership performance.
EPYC processors come with AMD Infinity Guard – a suite of cutting-edge security features, built into the silicon and designed to defend against internal and external threats. AMD Infinity Guard includes Secure Encrypted Virtualization (SEV) to help safeguard VM privacy and integrity, Secure Nested Paging (SEV-SNP) for offering strong memory integrity protection, Secure Memory Encryption (SME) to help guard against attacks on main memory, and the AMD Shadow Stack for hardware-enforced stack protection against malware attacks.
The feature set in detail
The new SOM-E780 COM-HPC Server Size E modules from Advantech integrate the latest AMD EPYC 7003 Embedded server-grade CPUs and have a planned long-term availability of at least 5 years. Available in 5 different variants, the new modules offer applications requiring massive parallel computing performance up to 64 powerful AMD 'Zen 3' cores for up to 128 threads. On 4 DIMM sockets, they support up to 512 GB DDR4 RAM with 3,200 MT/s to accelerate server designs with high memory bandwidth demands, multiple memory intensive workloads and virtual machine installations. Also, the staggering set of up to 79 PCIe Gen 4 lanes allows a new class of modular high-performance edge server designs that integrate a broad range of dedicated controllers, computing accelerator cards and NVMe storage media and support ultra high speed I/O communication and networking up to 100 Gbps Ethernet.
For real-time networking the modules additionally offer 1x 2.5 Gbit Ethernet. Further interfaces include 4x USB 3.2 Gen1, 4x USB 2.0, as well as SPI Bus, 12-bit GPIO and 2 COM ports. Conventional hard drives and SSDs can be connected via 2x SATA 3.0 interfaces. Software support is provided for Windows 10 and Ubuntu Linux. For improved Reliability, Accessibility, and Serviceability (RAS), the new COM-HPC Server-on-Modules support TPM as well as Advantech's proven remote management and monitoring solution, which consists of iManager including IPMI, Embedded Software APIs and WISE-DeviceOn. In order to optimize time-to-market and design-in security, Advantech offer suitable cooling solutions as well as extensive software design-in services for new AI and edge computing applications.
For more information on the SOM-E780 COM-HPC Server Size E Server-on-Modules, please visit https://www.advantech.eu/products/SOM-E780