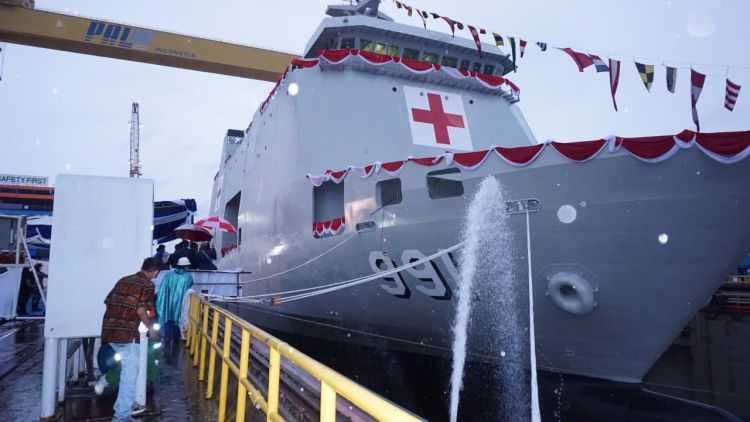 Hospital ships are vessels designed to act as floating medical treatment facilities for humanitarian missions or for use in war zones. Under the new contract, Terma will deliver the radar in June 2021 to support the latest Indonesian Navy Hospital Assistance Ship (BRS).
The Indonesian Navy's BRS built in Surabaya by the Indonesian state-owned shipyard PT PAL is 124 meters long, 21.8 meters wide, and able to host more than 600 people including crew, troops, and patients. According to PT PAL, the BRS can accommodate medical personnel to carry-out operational missions equivalent to those of a regular hospital. The BRS will be fitted with polyclinic facilities, emergency rooms, a radiology unit, and more.
Indonesia being prone to natural disasters such as earthquakes, volcanic eruptions, and tsunamis, assets such as the Hospital Ships are paramount to promptly ensure rescue and evacuation missions when needed. For this specific capability, each Hospital Ship is equipped with two helicopter landing spots, ensuring that the personnel, as well as the patients, can be readily and safely moved to and from the vessel.
The SCANTER 6002 is a surveillance radar with unparalleled helicopter landing control capabilities, which perfectly suits the missions carried out by the Hospital Ships.
Throughout the years, Terma has supplied numerous mission critical solutions in Indonesia, for all theatres of operations (air, land and sea). The main customers include the Indonesian Navy and Air Force, the Indonesian Coast Guards (Bakamla) and Sea and Coast Guard (KPLP), the Directorate General of Sea Transportation (DGST), and Jakarta Soekarno–Hatta International Airport.