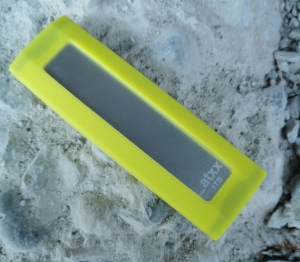 The ATTX SSD with 1 TB storage capacity offers transfer speeds of more than 8 Gbps and is compatible with Mac, PC and Linux.
ATXX introduces the new manageable super speed SSD with 1TB storage capacity. The manageable, portable SSD in stylish brushed platinum look is available in 1TB capacity and weighs only 35g. Thanks to the USB 3.2 Gen 1 interface with latest PCIe technology, transfer speeds of more than 8 Gbit/s are possible.
The ATXX SSD comes with a USB -C to USB-C cable and a USB-A to USB-C cable. This makes the compact SSD compatible with both common ports. Mac, Linux and PC users benefit from the advantages of the respective ports thanks to the flexibility. The SSD is delivered formatted and can therefore be used with Linux and Windows PCs and Macs without reformatting. The ATXX SSD enables home and business users to store, access and protect their important files.
The new SSD offers the following technical features designed to meet the needs and wishes of users:
Capacity: 1 Terabyte
USB 3.2 Gen 1 interface type C, backward compatible up to USB 1.1
Read/write performance 1050/950 MB/s in regular operation
(depending on the existing hardware interface)
Operating system: Windows10/8.1/8/7/XP, without driver
MAC IOS 10.2.8 and higher, without driver
Linux kernel version 2.4.10 and higher, without drivers
PCIe controller with M.2 interface
Dimensions: 103mm (L) / 31,5mm (W) / 9,8 (H) mm
Atlantik Networxx AG
http://www.atxx.ag