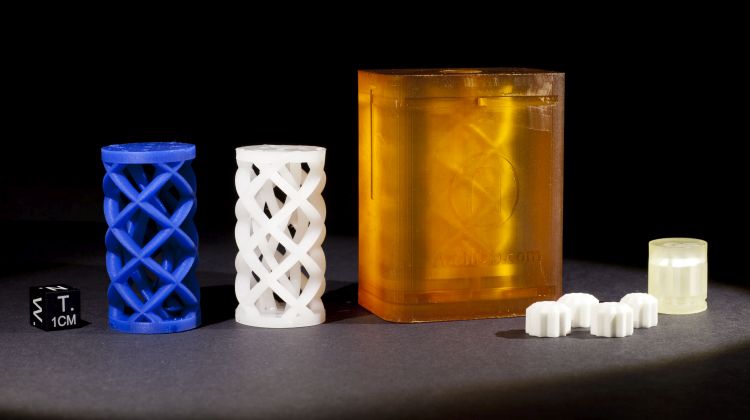 Additive Manufacturing – det nye sort indenfor hurtig og fleksibel produktion. "Curious today – Partner tomorrow?" er en serie af arrangementer på SDU, rettet mod Robot- Automations- og Produktionsindustrien og næste gang  er der så fokus på Additive Manufacturing.
To gange om året, slår SDU og universitets industri-partnere dørene op og deler viden – både den faglige viden,  men også viden om, hvordan det er at være partner med SDU.
Formålet er at gøre nysgerrighed i dag, til fremtidige partnerskaber – hvis ikke i morgen, så på sigt…
Næste arrangement er den 27. oktober og emnet er Additive Manufacturing, altså 3D-print, 4D-print, Prototyping mm. – kort sagt, det nye sort indenfor hurtig og fleksibel produktion.
Mød nuværende partner, AddiFAbs direktør Lasse Staal, der allerede nu løfter lidt af sløret for, hvad du kan opleve på dagen.
Netværk er vigtigt. Derfor er det muligt at deltage fysisk, både på SDU Campus i Odense og Sønderborg, flere steder i Jylland og på Sjælland, samt online. På den måde kan alle få optimale betingelser for at deltage på den måde der passer bedst og for at netværke, uden at skulle køre langt efter det.
Program:
15:30                  Tune in, coffee and greetings
                             Grab a cup of coffee. Find a chair and tune in to the ZOOM meeting. Greetings will be immediately prior to four o'clock.
16:00                  Researchers corner
Technologies and applications, by Dr. Saeed Farahani, Assc. Prof. Henrik Blichfeldt
The existing printing technologies and their applications as well as AM technology usage in a collaborative way using a "Digital Backbone" platform.
Large concrete parts, by Prof. Christian Schlette
Field report from one extreme application, namely 3D printing of concrete of towers in the energy sector.
In N3XTCON project, COBOD International A/S and SDU work closely to develop Digital Twins of COBOD's commercial printing systems in the field.
CREATE with Computational Design for Additive Manufacturing, by Asst. Prof. Roberto Naboni
The use of computational design tools allow to maximize the benefits of Additive Manufacturing and achieve higher levels of material performance and design efficiency. The presentation will showcase projects from SDU CREATE, discussing large-scale 3D printing with different material systems

4D Printing & Meta Materials , by Asst. Prof. Alireza Daman Pak Moghaddam
3D Printing of smart materials (4D Printing) to fabricate adaptive metamaterials may create a new generation of collaborative, and other robotic devices.

Advanced applications, by Eng. Andrei-Alexandru Popa
By use of complex materials and novel postprocessing, low-cost recyclable mechatronic products can be produced. Their applications, linked with their topology optimized designs and embedded sensors, span from low digital signals, to wearable electronics and collaborative robot prototypes.

Adoption of Additive Manufacturing in the Organization, by Dr. Saeed Farahani, Assc. Prof. Henrik Blichfeldt
How companys can adopt AM in three areas including rapid prototyping, production tools end components manufacturing.
17:15                  How to reach out?
                             TEK Innovation is your "one-stop" entry point to SDU researchers and students for future partnerships.
17:20                  Partners corner

Overview of Freeform Injection Molding (FIM), by CEO, Lasse Staal
FIM, an agile manufacturing platform, that combines the best from 3D-printing and injection molding to deliver superior product launch acceleration.
FIM is highly suitable in terms of materials and mass customization, as well as for the rapid manufacturing of small series of complex spare parts.
17:40                  Guided tour
                             AddiFab facilities in Jyllinge
18:00                  Networking
                             Beers and popcorn for the PHYSICAL participants
                             Break-out sessions for the CYBER participants
Deltagelse er gratis og tilmelding foregår altid på: http://www.sdu.dk/curious
Der er begrænsede pladser, som afsættes efter først-til-mølle princippet.