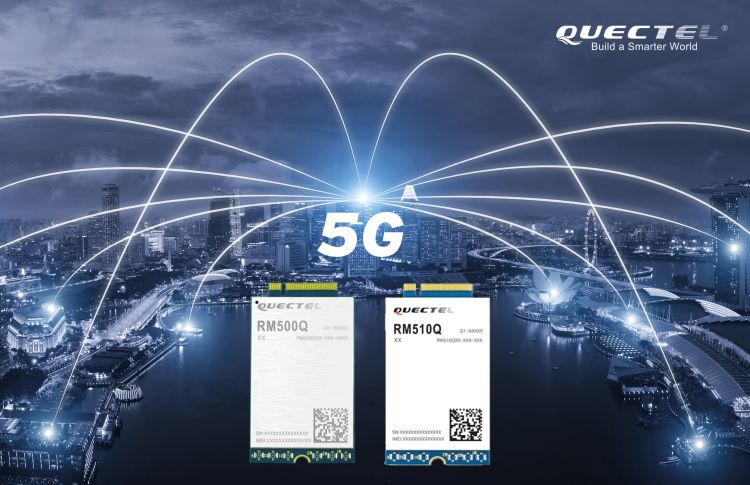 Atlantik Elektronikpresents Quectel´s first 5G modules. Quectel is global leader in wireless modules. The RM500Q is a Qualcomm Snapdragon X55 based 5G module optimized specially for IoT/eMBB applications. Adopting the 3GPP Rel. 15 LTE technology, it supports both 5G NSA and SA modes. Designed in an M.2 form factor, RM500Q is compatible with Quectel LTE-A Cat 6 module EM06, Cat 12 module EM12 and Cat 20 module EM20, which will facilitate customers to migrate from LTE-A to 5G.
The module supports Qualcomm® IZat™ location technology Gen8C Lite (GPS, GLONASS, BeiDou and Galileo). The integrated GNSS receiver greatly simplifies product design and provides quicker, more accurate and more dependable positioning capability.
A rich set of Internet protocols, industry-standard interfaces and abundant functionalities (USB/PCIe drivers for Windows 7, Windows 8/8.1, Windows 10, Linux, Android) extend the applicability of the module to a wide range of M2M and IoT applications such as industrial router, home gateway, STB, industrial laptop, consumer laptop, industrial PDA, rugged tablet PC, video surveillance and digital signage.
Key Benefits
5G/4G/3G Multi-mode module with M.2 form factor, optimized for IoT and eMBB applications
Worldwide 5G and LTE-A coverage
Both NSA and SA modes
Multi-constellation GNSS receiver available for applications requiring fast and accurate fixes in any environment
Feature refinements: DFOTA and VoLTE (optional)
The RM510Q is industry's first 5G data call over its 5G millimeter wave (mmWave) module that fully complies with 3GPP Release 15 5G NR standards.
The RM510Q is the first industrial 5G mmWave module that fully complies with the 3GPP Release 15 5G NR standards. Quectel´s RM510Q module is specifically designed for IoT and eMBB applications. It is based on a Snapdragon 855 processor combined with the X55 5G modem and supports mmWave and Sub-6GHz frequencies in both 5G standalone (SA) and non-standalone (NSA) operation. For operation in LTE networks, a maximum of 2.5 GBit per second in the downstream (Cat 22) is promised; an upstream value has not been mentioned yet.
The M.2 module covers nearly all the mainstream carriers worldwide. Designed backward compatible with LTE-A and 3G networks, RM510Q-GL integrates multi-constellation GNSS receiver, eSIM, as well as high-speed interfaces such as USB 3.1 and PCIe 3.0, which make it suitable for globally deployed mobile devices including Always Connected PCs (ACPC), industrial PDAs, mobile gateways and more.
Contact: 5G-Haus@atxx.de