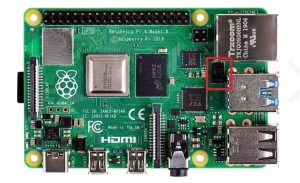 The new Raspberry Pi 4 is a microcomputer that promotes teaching of basic computer science in schools and in developing countries. It features Panasonic Industry Europe's Polymer SP capacitor replacing the previously used MLCC's (multi layer ceramic capacitor). Additionally the newly developed low-cost power supply of the Raspberry Pi 4 is equipped with Polymer OSCON capacitors from Panasonic Industry Europe, offering a reliable, high-tech and cost efficient solution for end users.
As both companies focus on contributing to society and producing cost efficient, high performance and high quality products, the development of the new Raspberry Pi with Panasonic Industry Europe components as a perfect example for cutting edge technology in a low cost application led to a charity event in Cameroon, that both companies were very happy to support.
The Raspberry Pi Foundation replaced two 1206 MLCCs with just one of Panasonic Industry Europe's Polymer SP capacitors that contributes to the performance and reliability of the most powerful Raspberry Pi microcomputer ever. With a compact housing of only 7.3 x 4.3 x 1.9 mm and a capacitance value of 100µF as well as low ESR characteristics (15mΩ max.) the SP capacitor helped optimizing the design processes as well as the capabilities of the Raspberry Pi 4.
MLCCs cannot achieve the same high capacitance as polymer for the same given footprint and volume. Also the MLCC exhibits strong capacitance dependence on DC bias due to ferroelectric dielectric materials used for MLCCs. The capacitance of these devices varies with applied DC voltage which can lead to a capacity drop of more than 70% compared to the given specs on the data sheet. For polymer capacitors the capacitance does not vary significantly when the application voltage changes. These advantages allowed a lower part count using SP-CAP with better capacitance range and temperature profile instead of MLCCs for Raspberry Pi 4 model, which not only saved space on the PCB but also was a cost factor by saving costs on parts and reducing the production steps.
Please find a video that shows the advantages of Polymer SP capacitors over MLCCs here.